Hamilton Watch Review – H64455533
Hello, today we're taking a look at the Hamilton H64455533 from the Khaki King series, an automatic day date timepiece with a genuine leather strap.
Hamilton happen to be one of my favourite mid range brand, you should check out my top 10 best Hamilton watches if you like the look of what you see.
(Click on any image to head straight to the product page for prices and specifications)
Anyway, it's time to get on with my Hamilton H64455533 review below, you can find out the price on Amazon today, enjoy.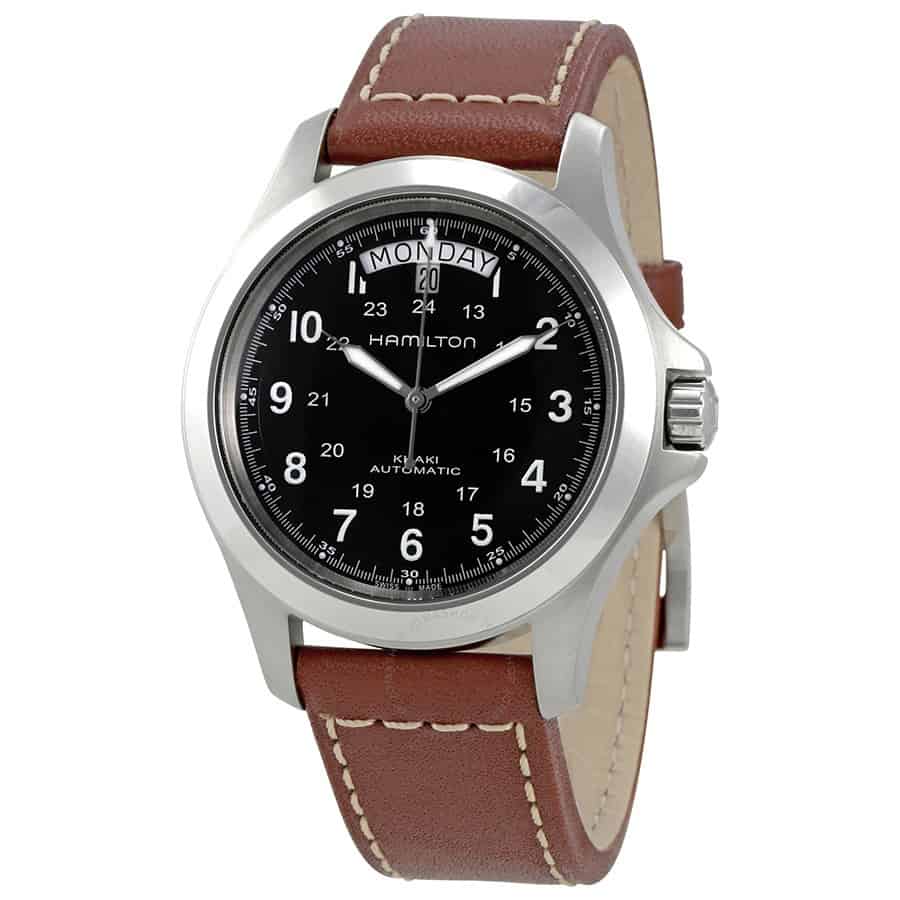 At the bottom of the article, I'll show you some of my recommended places to buy this watch from
My Initial Thoughts On This Watch
I've always been quite the fan of Hamilton watches so I'm initially a little biased as I am often drawn to the designs built by this brand. I really liked how easy the display is to read, the use of a day and date display, plus the slim design of the seconds hand.
It's also worth noting that powering the watch is a high quality Swiss made automatic movement, I tend to opt for automatic watches when available, and I love the fact you can take a look at this movement working away through the exhibition style caseback.
All in all, I think if you're in the range for a watch under £500 then an automatic timepiece from a brand such as Hamilton isn't a bad route to head down at all.
Dial
The dial on this Hamilton watch is very easy to read. The bold white Arabic numeral hour markers stand out against the black dial, with a coating of lume for better visibility in dim lit conditions. You'll also spot the day and date calendar at the top of the dial, this is quite a popular feature lately.
It's not something many people would necessarily notice at first, but I have to say I like the design of the seconds hand.
Movement
At the heart of this Hamilton watch is a Hamilton caliber H-40 movement. This is a Swiss made 25 jewel design that has a BPH of 21,600 and provides accurate timekeeping. As it's an automatic self winding movement, this watch doesn't require a battery.
Type of glass
Protecting the front of the timepiece is a sapphire crystal glass lens. At this sort of price range you start seeing these higher quality lenses so I'm pleased to see Hamilton have followed suit for this model.
Sapphire glass provides you with a very good level of scratch protection with a Mohs hardness rating of 9.
You do still need to be careful not to drop your watch, as sapphire doesn't stand up too well when it comes to shattering.
Protecting the rear of the watch is another sapphire crystal glass lens, this allows you to peer in a view the automatic movement whilst it's working away.
Casing & Size
They've stuck with the popular 40mm size for this men's Hamilton watch. The casing is made of stainless steel with a thickness of 11mm. Whilst personally I prefer these larger 40mm casings, it is something you'd need to consider before purchasing the watch.
Calendar
As I mentioned earlier on, within the dial of this Hamilton watch is a day and date calendar display. The day of the week is displayed right at the top of the dial with the actual date displayed nice and neatly below it. It uses black numbering on a white background which works well to stand out on the dial.
Watch strap and clasp
The strap of this Khaki King watch is made of a soft genuine leather in a brown croco embossed finish with light contrast stitching. The width of this strap is 20mm which is fairly standard considering the size of the casing. The strap itself fastens with a buckle style clasp.
Water Resistance:
The water resistance rating is an impressive 50m also known as 5ATM. A 50m water resistance makes it suitable for everyday use as it is splash/rain resistance.
Features:
Brand: Hamilton
Model: H64455533
Dial Window Material: Sapphire glass
Clasp Type: Buckle Clasp
Case Material: Stainless Steel
Case Diameter: 40mm
Case Thickness: 11mm
Band Material: Genuine Leather
Band Width: 20mm
Calendar: Day and date display
Movement: Swiss Quartz Movement
Water Resistance Rating: 50m
Conclusion
As always, thank you for taking the time to read through today's Hamilton H64455533 review. If you're after something that offers great value for money for an automatic timepiece from a quality brand, then I'd definitely consider this watch. At the very least, if you liked the look of this model be sure to see what else the Hamilton watch brand has to offer.
I Hope you found this Hamilton watch review useful and enjoyable, comment below and let me know what you think of it.
Where to buy the Hamilton H64455533
I like to stick to listing retailers that I've actually had experience buying from in the past. Below I've listed some of the top places to buy this watch from, check all 3 for the best price.
Thanks for reading, find more of my watch reviews below.