Hugo Boss Watch Review – 1513548
Hey everyone, today we're taking a look at this men's Hugo Boss watch, product code 1513548 if you wish to look it up. This large chronograph quartz watch is built with a mesh style bracelet and features a gold tone finish.
Hugo Boss watches are a popular designer brand that's more suited for people who like their fashion labels, not necessarily so fussed about the inner workings of a timepiece. You can view more of my most recommended timepieces from this brand in my best Hugo Boss watches list.
(Click on any image to head straight to the product page for prices and specifications)
Anyway, it's time to get on with my Hugo Boss 1513548 review below, you can find out the price on Amazon today, enjoy.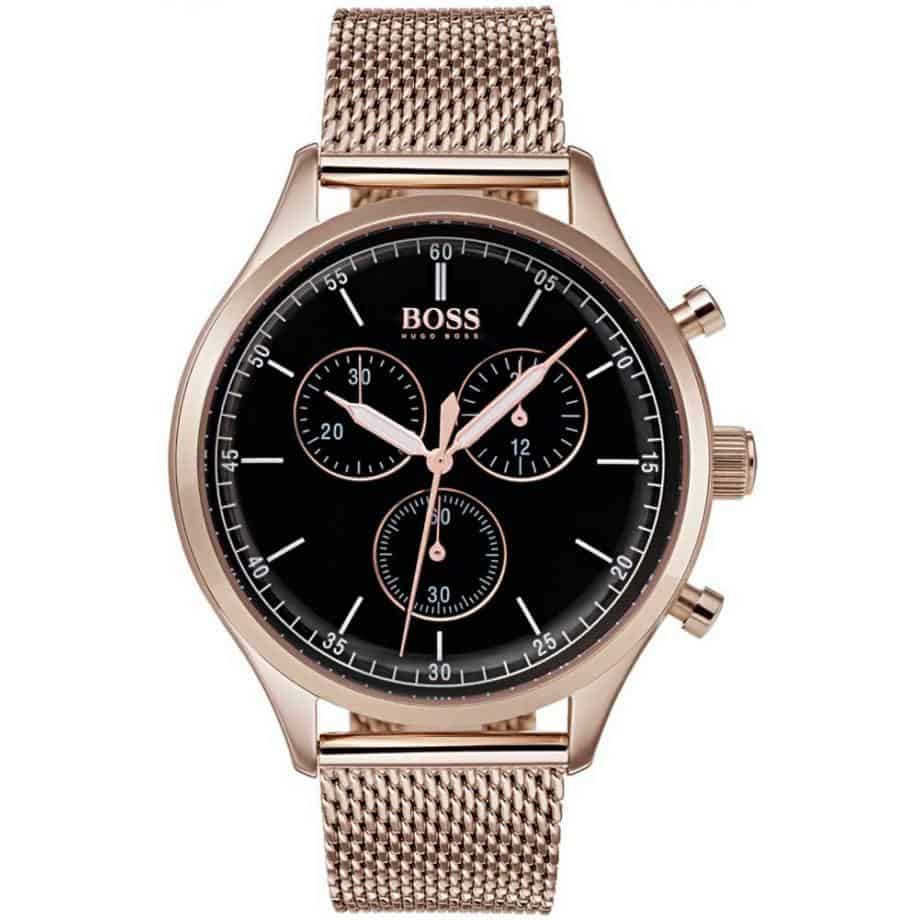 At the bottom of the article, I'll show you some of my recommended places to buy this watch from
My Initial Thoughts On This Watch
Whilst I personally quite like Hugo Boss watches, it's fair to say they're not the top brand for many watch fans. Hugo Boss do build some lovely looking designer watches, but they simply don't compare to the high quality Swiss brands, or for that matter, even a simple Seiko watch when it comes to value for money.
But if you're someone who simply likes the design of a watch, rather than the quality of the components on the inside of it, then going for a good looking designer watch from the likes of Hugo Boss is fair enough, you just need to understand, as with any designer timepiece, you're often paying a considerable amount towards the brand name.
I do like the design of this Hugo Boss watch, the black and gold works well together and I'm rather fond of mesh style straps at the moment. The watch is powered by a quartz movement so it's going to be quite accurate and reliable. It also comes with a 50m water resistance rating which some may find useful.
If you're in the market looking for a timepiece in this price range then I do recommend checking out my 100 best watches under £500.
Dial
This Hugo Boss watch features a typical large and easy to read display with white and gold detailing that stands out against the black dial.
The dial features 3 sub dials which display a 60 second / 30 minute timer as well as a 24 hour clock.
Movement
Powering this Hugo Boss timepiece is a Japanese built quartz chronograph movement. Quartz movements are often fairly affordable and provide accurate and reliable timekeeping. You'll often spot these movements used in many of Hugo Boss' watches.
Type of glass
Protecting the front of the watch is a mineral crystal glass lens. Mineral crystal glass is specially hardened to provide a decent level of scratch resistance.
One of the benefits of mineral crystal glass over say, the more expensive sapphire crystal glass, is that it actually features a higher level of shatter resistance.
At this sort of price, from Hugo Boss, mineral crystal glass is exactly what I expected to find.
Casing & Size
This men's Hugo Boss watch is built with a stainless steel casing that has a diameter of 44mm and a thickness of 11mm. These larger oversized watches have become very popular as of late. The 44mm casing makes this a big watch, so this should be taken into consideration before purchasing the watch.
The 11mm thickness is pretty standard so shouldn't be anything you'd need to concern yourself over.
The casing has a gold coloured finish to it which happens to work quite well with the black dial for that classic black/gold blend.
Watch strap and clasp
The strap of this Hugo Boss watch is made of stainless steel with the same gold coloured finish to match up to the casing. It has a mesh style design which again has proven to be popular lately.
The mesh style strap is 20mm wide which is suitable for the 44mm casing size. It also makes use of a buckle style clasp which is easy to operate and simple to adjust.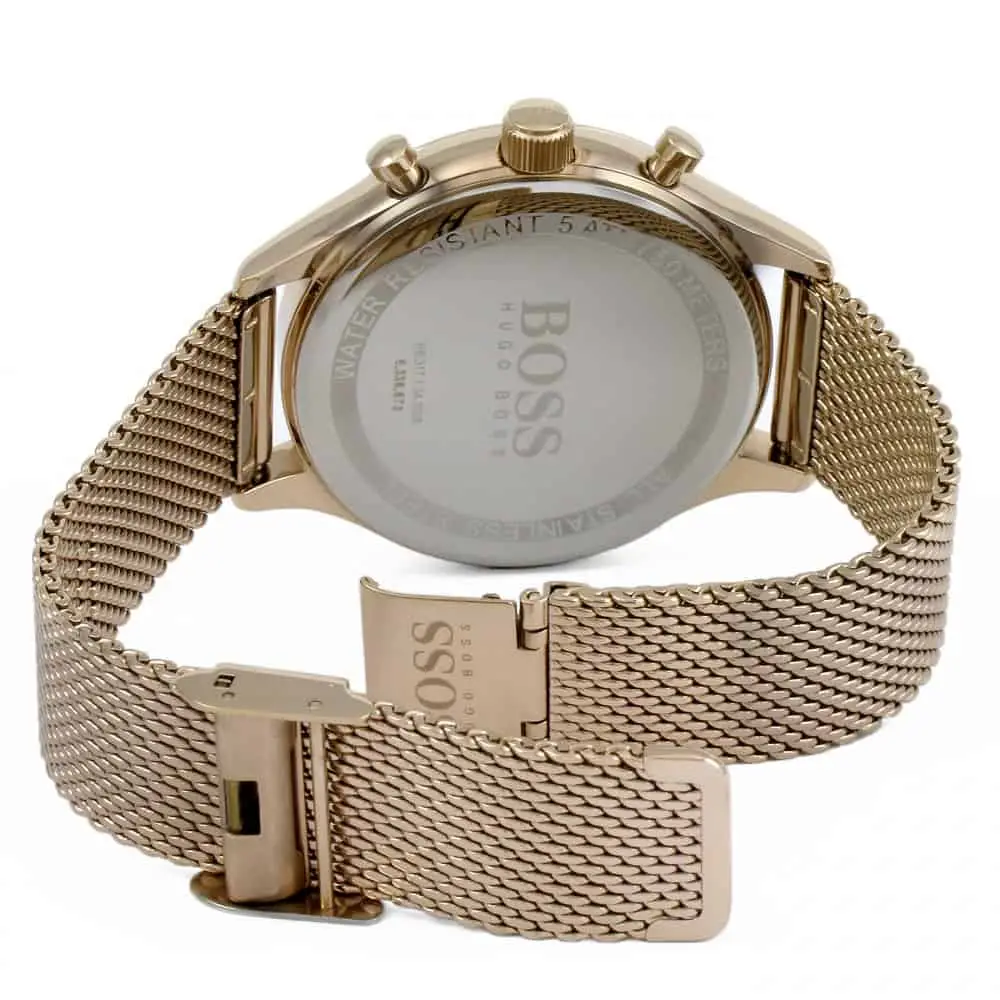 Water Resistance:
The water resistance rating is 50m also known as 5ATM. A 50m water resistance makes it suitable for everyday use as it is splash/rain resistance.
Features:
Brand: Hugo Boss
Model: 1513548
Dial Window Material: Mineral crystal glass
Clasp Type: Buckle Clasp
Case Material: Stainless Steel
Case Diameter: 44mm
Case Thickness: 11mm
Band Material: Stainless Steel
Band Width: 20mm
Calendar: None
Movement: Chronograph Quartz Movement
Water Resistance Rating: 50m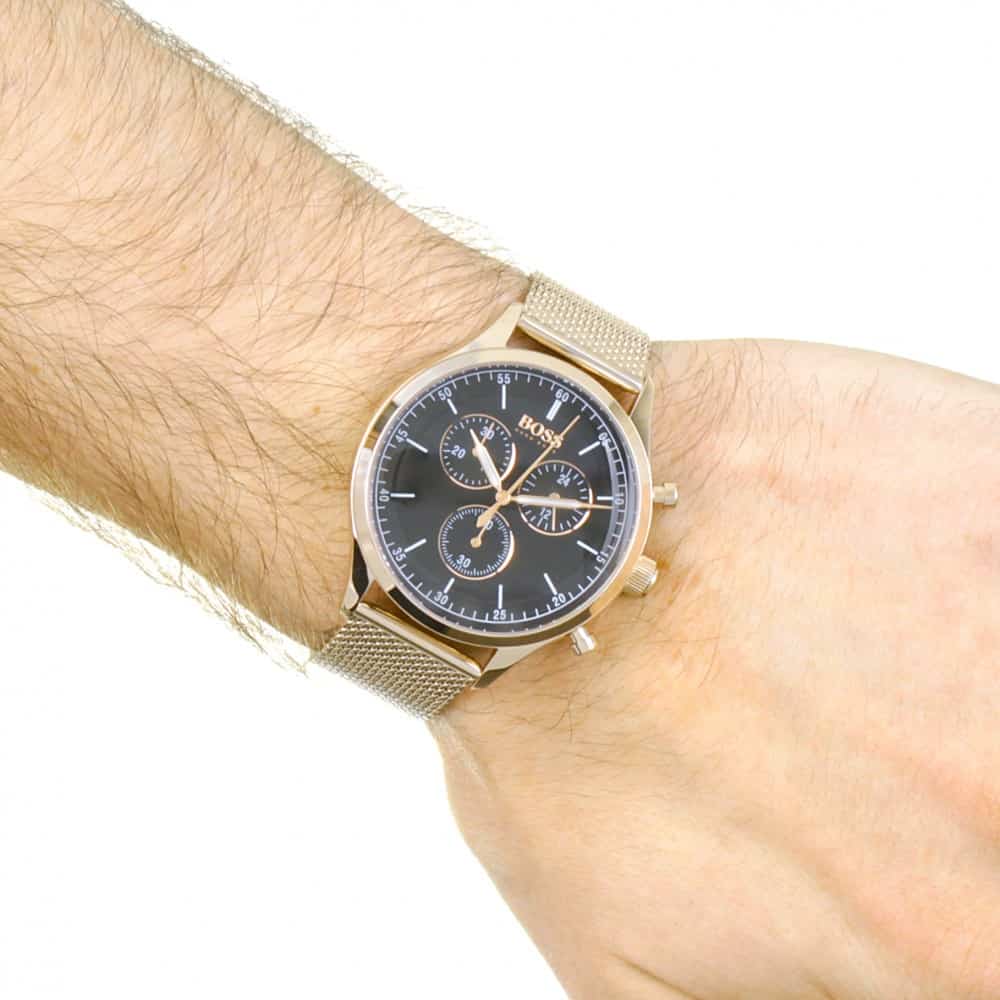 Conclusion
As always, thanks for taking the time to read through today's Hugo Boss 1513548 review.
My final thoughts on this timepiece would be, if you love the look of the timepiece and you're happy paying towards a brand name like Hugo Boss, then go for it. I even have a couple of Hugo Boss chronograph watches in my own collection that I've been extremely pleased with since I purchased them.
I Hope you found this Hugo Boss watch review useful and enjoyable, comment below and let me know what you think of it.
Where to buy the Hugo Boss 1513548
I like to stick to listing retailers that I've actually had experience buying from in the past. Below I've listed some of the top places to buy this watch from, check all 3 for the best price.
Thanks for reading, find more of my watch reviews below.