Swiss Military Flagship Chrono Men's Quartz Watch 6-5183.04.001.07 Review
Hey everyone today I'm doing a Swiss Military 6-5183.04.001.07 Review. I'm quite the fan of the Swiss Military brand of watches, a little while back we did a top 9 Swiss Military watches post which is worth checking out after this. If you're on the fence about getting this watch I can save you some time, it's well worth the money, but I'll happily explain more on that below.
Anyway I'll get on with my 6-5183.04.001.07 review below and you can buy it on Amazon today, enjoy.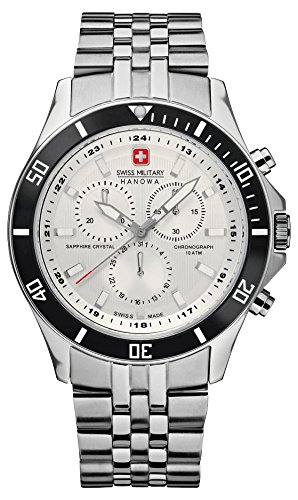 My Initial Thoughts On This Watch
Not often do you find watches that are such good value for money as this one. Swiss Military are known for making some very good hard wearing watches with decent components. This is 100% Swiss made, sapphire glass and carbon fibre dial with luminous features. All that for a watch at this price is pretty impressive if you ask me. Now lets get onto the finer details eh.
Type of glass
As I mentioned earlier this watch features a sapphire glass. This is 3 times harder than the mineral glass you normally find on watches at this price and 20 times stronger than your basic acrylic glass. Sapphire glass has a Mors hardness rating of 9 so you'll struggle to scratch this even if you were trying. As I say I normally wouldn't expect to see this on a watch below £300 or so, it's kind of rare that you find that in this affordable price bracket.
Size
The diameter of the watch casing is 42mm which is classed as large. 42mm is actually the standard for men's watches these days. You occasionally find dress watches at 38mm but 42mm is my preferred size. The thickness of the watch is 9mm which is average size. You can expect this watch to sit pretty nicely on your wrist without being overly in the way of shirt cuffs.
Calendar
This Swiss watch features a standard date display within the chronograph features. As much as it would have been nice to see a perpetual calender you honestly cant expect to have everything, we got the sapphire glass so we should be pretty happy with this. Also I feel the dial looks nicer like this without a traditional date window.
Watch strap and clasp
The strap is made of stainless steel and is 22mm in width, a traditional size for this style of watch. The strap features a standard fold over clasp with push release pictured below. Overall I like the style of the strap as well, all works very nicely with the dial.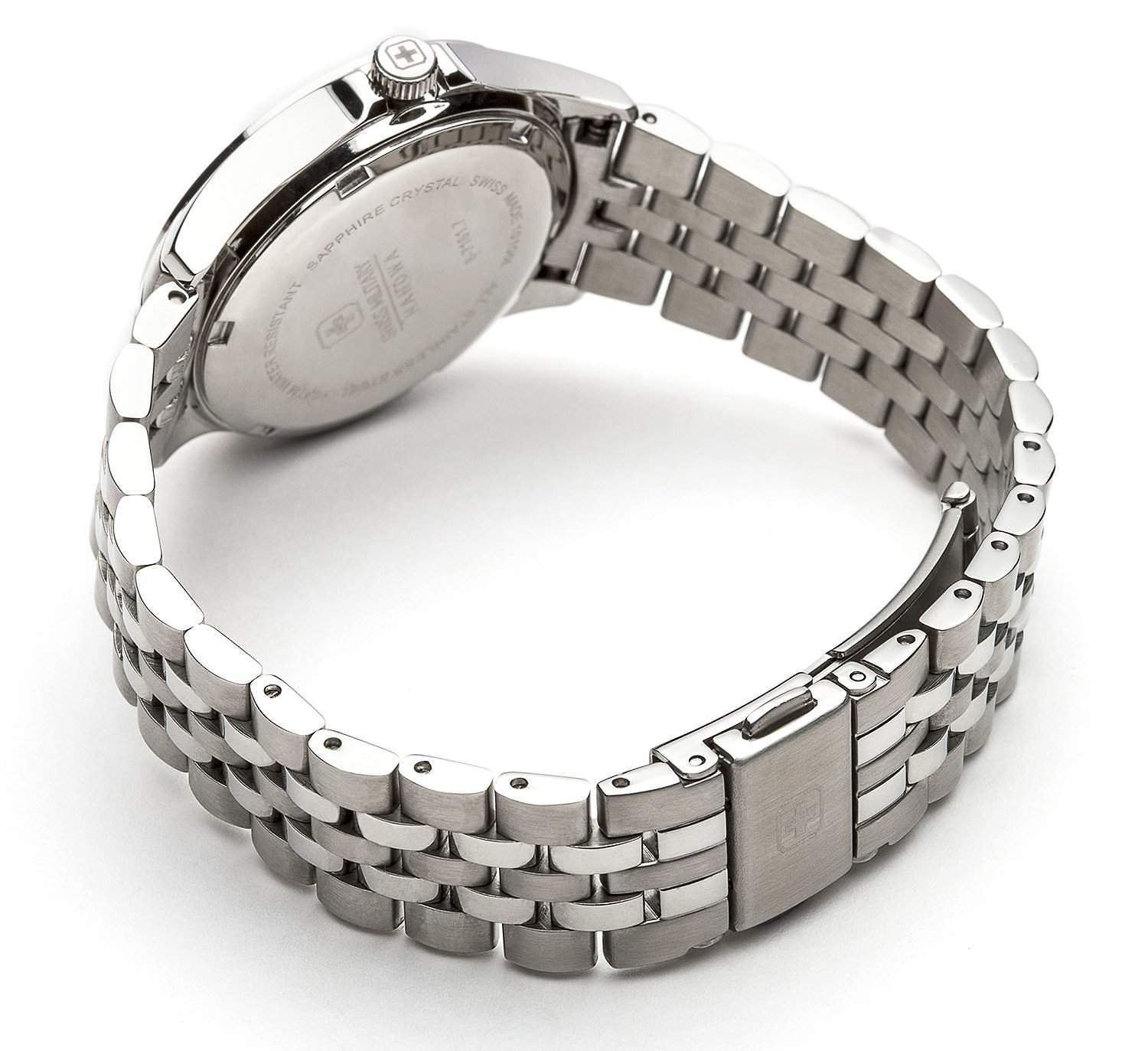 Features:
Brand: Swiss Army
Model: 6-5183.04.001.07
Dial Window Material: Sapphire
Clasp Type: Fold Over Clasp
Case Material: Stainless Steel
Case Diameter: 42mm
Case Thickness: 9mm
Band Material: Stainless Steel
Band Width: 22mm
Calender: Standard Date Display
Movement: Precise Quartz Movement
Water Resistance: 10 Bar
Conclusion
Oh so you're still here and haven't jumped at the chance to get a watch of such quality? The style of the watch is fantastic and the parts are all high quality and it's a 100% Swiss made watch. I'd be more than happy recommending this one to family and friends looking for a good quality watch at an affordable price.
Personally I love this watch, and for those of you who come here often you know I'm honest about what I like and dislike. This I'd be more than happy to add to my collection and may well have to do so in the near future as it's such a good deal in my eyes.
Hope you found this Swiss Military 6-5183.04.001.07 review useful and enjoyable. You can find out the price and more details on Amazon