Seiko SARB037 Review

My rating: 8/10. A quality vintage Seiko timepiece powered by the popular 6R15 automatic movement.

Hello, today I'm taking a look at the Seiko SARB037. This is another one of Seiko's harder to find watches. It's powered by the popular and reliable 6R15 automatic movement and features an excellent sapphire crystal glass. Perfect for both formal and casual occasions, this should be suitable for most people.
I hope you enjoy today's Seiko SARB037 review.
You can check out more of the top Seiko watches here.
Below is an up-close image of the Seiko SARB037 featuring a stainless steel strap.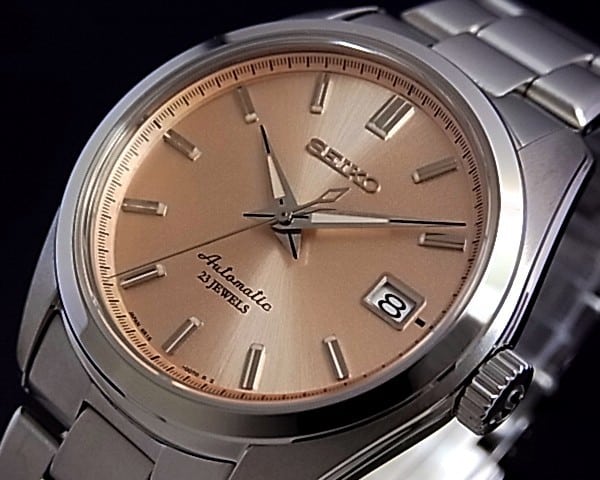 Seiko SARB037 Technical specifications
I always like to start things off by showcasing a few of the more popular specifications in an easy to read format. This gives you the opportunity to see if you like this style of watch from the get-go. For example, some people wouldn't want to go for a very large watch.
Model Number: SARB037
Crystal Material: Sapphire crystal
Case Diameter: 38mm
Case Thickness: 11mm
Movement: 6R15 Automatic
Water Resistance: 100m / 10 bar
Strap Material: Stainless steel
Seiko SARB037 Dial and Casing Design

The Seiko SARB037 is a popular men's dress style watch. The dial is finished in the beautiful golden colour with baton style hour markers and silver coloured hands. There's also a useful date indicator located at the 3 o'clock position on the dial. The terms 'Seiko', 'Automatic', and '23 jewels' can also be found on the dial.
The casing of the SARB037 is made of stainless steel with a diameter of 38mm and a thickness of 11mm. A popular size for these older timepieces. The crown is located at the 3 o'clock position on this watch, note that it does not screw down.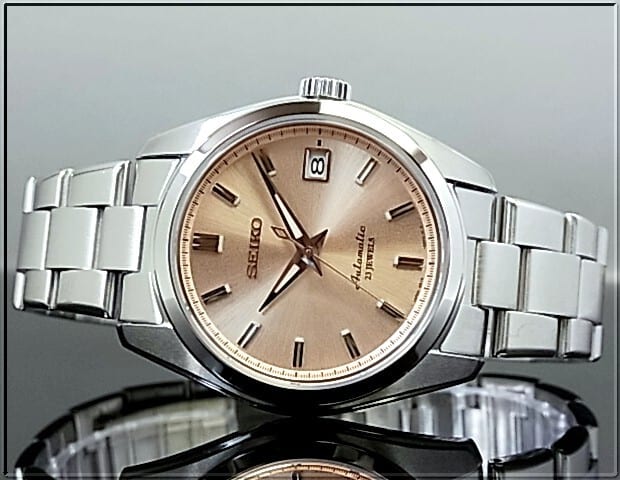 Strap & Clasp
The strap of the Seiko SARB037is made of stainless steel with a width of 20mm. This can be changed to an alternative strap if you wish to do so, the gap between the lugs is 20mm. Purchase a watch repair kit for all the tools required for this job.
The Seiko SARB037 Movement
At the heart of this popular Seiko dress watch is the 6R15 caliber movement. The Seiko 6R15 movement is found in many SARB and SARX watches like the SARB033 and SARB065 for example.
The 6R15 is a popular 23 jewel automatic movement that beats at 21,600 BPH. This gives you a nice smooth sweeping second hand at 6 ticks per second.
When fully wound the 6R15 has a power reserbe of 50 hours. The movement features both manual winding and hacking. Hacking means the second hand will stop moving when the crown is pulled to the time setting position, this allows you to see your watch to the second.
Seiko SARB037 Crystal
Protecting the front of the timepiece is a sapphire crystal glass lens. A sapphire crystal glass provides you with an excellent level of scratch and knock resistance. Seiko tend to save this for their higher end models, like this Seiko SARB037.
Also Read: Best Minimalist Watches
SARB037 Water Resistance 
The water resistance rating of the Seiko SARB037 is 100m, also known as 10 bar. As per Wikipedia, this is suitable for recreational surfing, swimming, snorkeling, sailing and water sports. Note that this is not suitable for diving.
Seiko SARB037 Pros & Cons
I wanted to point out some of the pros and cons of this Seiko SARB037 and display them in a nice and easy to read format so you can see if this watch is right for you.
Seiko SARB037 Pros
High end Seiko timepiece
Reliable 6R15 automatic movement
50 hour power reserve
6 ticks per second sweeping movement
100m water resistance rating
Sapphire glass glass
Date display
Seiko SARB037 Cons:
A Final Word On The Seiko SARB037

The Seiko SARB037 is perfect for those who love an smart looking timepiece that's suitable for both formal and casual occasions, although, personally I'd stick to just formal occasions with it.
It's a high quality Seiko watch powered by a reliable 6R15 automatic movement which gives you that brilliant 6 tick per second sweeping hand. It also features a 100m water resistance rating and a quality sapphire crystal glass lens.
Having taken a look at the quality, specifications, and pricing of this watch, I've decided to give it a 8/10.
Where To Buy The Seiko SARB037

I like to stick to listing retailers that I've actually had experience buying from in the past. Below I've listed some of the top places to buy this watch from, check all for the best price.
Buy on Amazon Unavailable
Buy on Watch Shop Unavailable
Thanks For Reading
I hope you enjoyed having a read through of this Seiko SARB037 review. As always let us know what you thought in the comments section below.
Why not check out our top 100 best watches under £500 next.