Rotary Men's Watch GS00335/06 Review.
Hello, today I'm doing a Rotary GS00335/06 review. I really love the textured dials you find on some of these Rotary watches so I figured I would feature one of them today. It's a fairly affordable Quartz model with a genuine leather strap, should be worth checking out.
(Click on any image to head straight to the product page for prices and specifications)
Anyway, I'll get on with my GS00335/06 review below and you can find out the price on Amazon today, enjoy.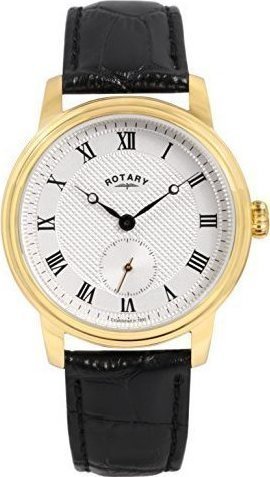 At the bottom of the article, I'll show you some of my recommended places to buy this watch from
My Initial Thoughts On This Watch
I've always rather liked this movement that features the seconds hand on a separate sub dial around the 6 o'clock position on a watch. I think the design looks quite aesthetically pleasing keeping everything quite symmetrical.
The textured dial is another impressive part of the dial design, if you look closely you'll see some intricate detailing on the dial that really makes the watch stand out compared to other watches.
Overall the watch has a fairly classic feel to it with the Roman numerals and the black hands, along with the gold plated casing.
Movement
The watch uses a quartz movement which are often popular as they require very little maintenance whilst remaining accurate and reliable. The quartz movement is powered by a watch battery.
Type of glass
As is quite common in this sort of price range, the watch uses a mineral glass window. Mineral glass is often used as it offers you a good level of scratch and knock protection, whilst remaining affordable. This is exactly what I was expecting to see on this watch.
Size
Going along with the classic timepiece feel the watch is slightly smaller than a lot of the watches that are popular at the moment. The casing diameter is 38mm which makes it a men's medium, while the thickness is still a fair 11mm.
Watch strap and clasp
The watch features a comfortable genuine leather strap which has a width of 20mm which is a standard size on a men's watch. The strap fastens with a typical buckle that's plated to match the casing colour.
Water Resistance:
The water resistance rating is a modest 50m, or 5ATM. 50m water resistance makes it suitable for swimming, white water rafting, non-snorkeling water related work, and fishing.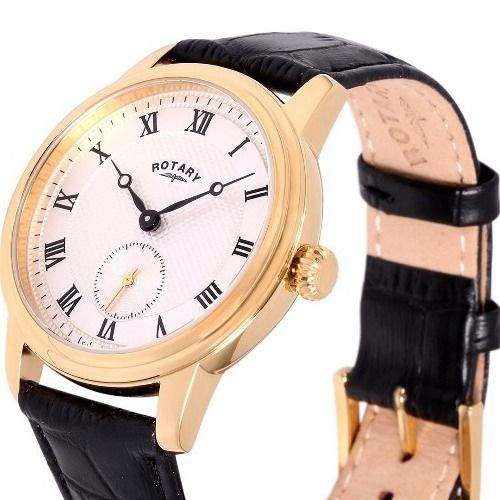 Features:
Brand: Rotary
Model: GS00335/06
Dial Window Material: Mineral Glass
Clasp Type: Buckle style clasp
Case Material: Stainless Steel
Case Diameter: 38mm
Case Thickness: 11mm
Band Material: Stainless Steel
Band Width: 20mm
Calendar: No date display
Movement: Quartz Movement
Water Resistance Rating: 50m
Conclusion
I've really enjoyed taking a closer look at this Rotary timepiece, I love the classic look of the watch, along with that fantastic dial detailing. Rotary have always been a very safe brand to go for, in my opinion, they're one of the world's largest and most well-known brands providing high-quality watches since 1895. Overall I think this is a great looking watch that's well built and offers some pretty good value for money.
I Hope you found this Rotary GS00335/06 review useful and enjoyable, comment below and let me know what you think of it.
Where to buy the Rotary GS00335/06
I like to stick to listing retailers that I've actually had experience buying from in the past. Below I've listed some of the top places to buy this watch from, check all 3 for the best price.
Thanks for reading, find more of my watch reviews below.