Invicta 3329 Watch Review Summary
My rating: 8/10. Very good watch. Left-hand design with 100m water resistance rating.
Hello, today I'm doing an Invicta 3329 review. I thought this watch from Invicta would be interesting to look at today, you don't often find these designs with the crown on the left-hand side, supposedly built with left-handed people in mind, let's take a look what it's like.
I hope you enjoy this Invicta 3329 review below.
You may also like my 100 best watches under £500 for men.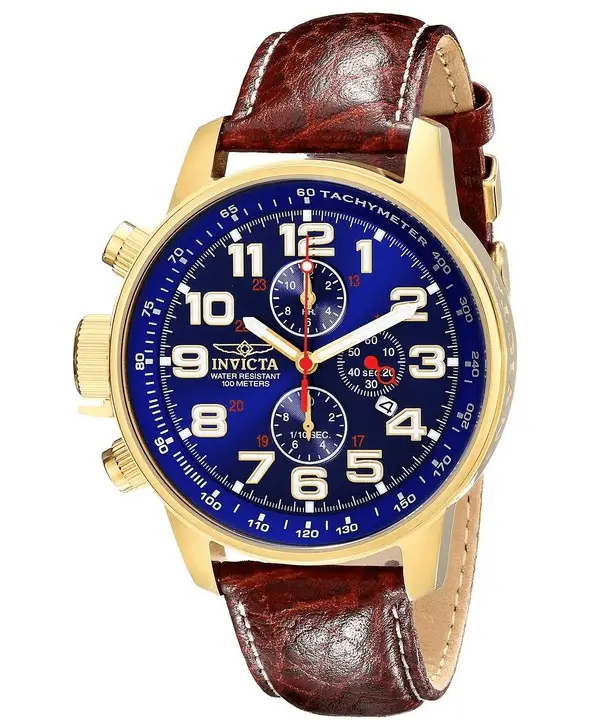 Latest reviews, ratings and prices: Invicta 3329 watch
Watch Review
Back to Invicta's larger watches today with this rather impressive looking model, the Invicta 3329. Whilst the 3329 hasn't made it into our best Invicta watch lists, it is still a very popular model for them, so well worth checking out properly.
The watch has a really expensive, luxury design to it, so when you actually get around to checking the price, you'll be thoroughly surprised. The deep blue dial blended with the yellow-gold casing works extremely well with the genuine leather strap. The dial has a very easy to read design to it with the large numerals that stand out against the blue background.
An interesting feature of this watch is the left handed setup. I'm actually a lefty but I have to admit I've never had any problems with other watches in the past, so I don't see the need for it, that being said it's interesting to see something a little different.
The watch has a chronograph function, the three sub-dials display a 60 second, 30 minutes and 12-hour timer. It's actually the main seconds hand that is used for the stopwatch function and the sub-dial displaying the 60 seconds is used for day to day. This has confused some people in the past.
The hour and minute hands of the watch and hour markers on the dial are coated in lume, this makes the easier to read in dim lit conditions.
Protecting the dial we have a mineral style glass, this is specially hardened to offer extra resistance to scratches and knocks. At this price it was exactly what I was expecting to find, so nothing surprising there to be honest.
On the inside of the watch, we have a Japanese quartz movement caliber YM92A. This is a cheap yet reliable and accurate movement.
This watch may be a little larger for some people, the casing diameter is 46mm which makes it quite big. The thickness is a modest 12mm though so it avoids that overly chunky feel. That casing diameter is worth keeping in mind though if you don't like larger watches, it probably isn't suitable for you.
It has a reasonable 100m water resistance rating. A 100m water rating or 10ATM is suitable for recreational surfing, swimming, snorkeling, sailing and water sports.
Watch Specifications
Band Genuine leather strap, standard length, 21mm width, standard buckle clasp.
Case Stainless steel casing, sizing diameter: 46mm and thickness: 12mm.
Dial Analogue display. The window lens is made of mineral glass which is resistant to scratches.
Movement Accurate Japanese Quartz movement.
Water Resistant A water resistance of up to 100m / 10 bar.
Watch Advantages
Invicta are well known for their quality affordable watches
Features a Japanese quartz movement
100m water resistance rating
Lume on the hands and hour markers makes it easier to read at night
Expensive looking design
Popular oversized design
Left-hand crown placement
Watch Disadvantages 
Due to its large 46mm casing, this watch may not be suitable for people with smaller wrists
Seconds are displayed on a sub-dial, this has confused a few people who weren't expecting it (It's a feature found on quite a few chronograph watches though)
My Final Thoughts On This Invicta 3329 Review:
The Invicta 3329 has a rather interesting design to it, I don't come across left handed crown placements all too often so it was nice to see something different. Overall the watch has a rather pleasant design to it, I love this gold and dark blue finish they've gone with.
After looking into the watch design, quality, features, and pricing this watch received an 8/10 from us at The Watch Blog.
You may also like my 100 best automatic watches under £1000
Where to buy the Invicta 3329
I like to stick to listing retailers that I've actually had experience buying from in the past. Below I've listed some of the top places to buy this watch from, check all listings for the best price.
Buy now at Amazon
Hope you enjoyed this Invicta 3329 review. Find more watch reviews below.