Hugo Boss 1513676 Review

My rating: 8/10. A stylish all black watch by a well known designer brand.

Today we're going to be taking a look at the Hugo Boss 1513676. This is a popular all black designer watch with a sports chronograph dial. It's powered by a quartz movement and has a basic 30m water resistance rating. This model comes with a push release deployment style clasp.
I hope you find the full Hugo Boss 11513676 review helpful, if you have any questions please comment them at the bottom of the page and I'll do my best to assist you.
You can check out more of the top Hugo Boss watches here.
Below is an image of the Hugo Boss 1513676.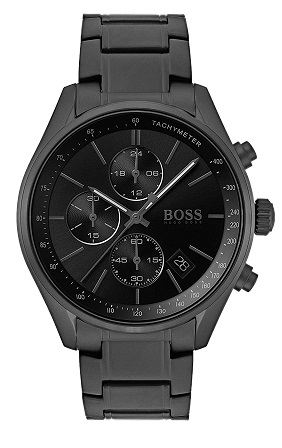 Hugo Boss 1513676 Technical specifications
As always I'd like to start things off with a quick overview of the more important technical specifications that people often like to skim through. This allows you to quickly check if something is or isn't to your normal liking or size.
Model Number: 1513676
Crystal Material: Mineral crystal
Case Diameter: 44mm
Case Thickness: 11mm
Movement: Quartz
Water Resistance: 30m / 3 bar
Strap Material: Stainless steel
Hugo Boss 1513676 Dial and Casing Design

If you like all black watches, then you're sure to love the design of this latest Boss watch. They've opted for a smart and stylish look with 3 chronograph subdials, a date display and slim hands with black finished baton hour markers.
The date display is located between the 4 and 5 o'clock hour markers, this isn't my favourite positioning to be honest but I can see that they've opted for it to fit in the Boss logo on the dial. Many people buying designer watches will want the brand to be clearly visible so I can understand the choice made.
The chronograph subdials can be used to operate as a stopwatch to measure intervals of time. You may well have some actual use for this but these days it's often just a stylistic choice.
The casing itself is made of stainless steel with a diameter of 44mm and a thickness of 11mm. This is a popular size at the moment, more and more people are opting for larger watches, the standard size is around 42mm at the moment so this is just a little over that.
Strap & Clasp
I am a big fan of this style of strap. I love the push button deployment clasp, it's very easy to operate and I like the way it all comes together. The width of the strap is 22mm and it's also made of stainless steel just like the casing.
The Hugo Boss 1513676 Movement
Powering this Hugo Boss watch is a Japanese quartz movement. These are found in many affordable designer watches such as this model. They're known for being accurate and reliable, they just lack any of the extra bells and whistles of higher end timepieces.
Hugo Boss 1513676 Crystal
Protecting the from of the timepiece is a mineral crystal glass lens. This again is found in many affordable watches. Mineral crystal glass is specially hardened to offer a great middle ground between scratch and shatter resistance.
1513676 Water Resistance 
The water resistance rating of this Hugo Boss watch is just 30m. That's a very basic water rating and makes it suitable for everyday use. Splash/rain resistant. Keep in mind it is not suitable for showering, bathing, swimming, snorkeling, water related work, fishing, and diving. Learn more about resistance ratings on Wikipedia.
Hugo Boss 1513676 Pros & Cons
I wanted to point out some of the pros and cons of this Hugo Boss 1513676 and display them in a nice and easy to read format so you can see if this watch is right for you.
Hugo Boss 1513676 Pros
Chronograph timekeeping
Popular all black watch design
Designer brand
Mineral crystal glass
Japanese Quartz movement
Deployment clasp
Hugo Boss 1513676 Cons:
You will be paying towards the designer brand name
A Final Word On The Hugo Boss 1513676

The Hugo Boss 1513676 has proven to be extremely popular lately. If you're a fan of designer brands it's no surprise you've come looking for more info on this timepiece.
Overall, I'm fairly happy with this timepiece. You know what you're getting into with designer watches, I wasn't expecting to see any bells and whistles on this watch so there wasn't much to be disappointing with. You do need to accept though that in terms of components you're not getting massive value for money, but that's designer brands for you a lot of the time.
Having taken a look at the quality, specifications, and pricing of this watch, I've decided to give it a 8/10.
Where To Buy The Hugo Boss 1513676

I like to stick to listing retailers that I've actually had experience buying from in the past. Below I've listed some of the top places to buy this watch from, check all for the best price.
Buy on Amazon 
Buy on Watch Shop Unavailable
Thanks For Reading
I hope you enjoyed having a read through of this Hugo Boss 1513676 review. As always let us know what you thought in the comments section below.
Why not check out our top 100 best watches under £500 next.