Emporio Armani Men's Quartz Watch AR2461 Review.
Today I'm taking the time to do a Emporio Armani AR2461 review. This is the second watch in my new series where I'm reviewing some of the most popular Emporio Armani watches available. We're going to take a look at what makes this watch so popular and see if it's really worth the money.
(Click on any image to head straight to the product page for prices and specifications)
Anyway I'll get on with my AR2461 review below and you can buy it on Amazon today, enjoy.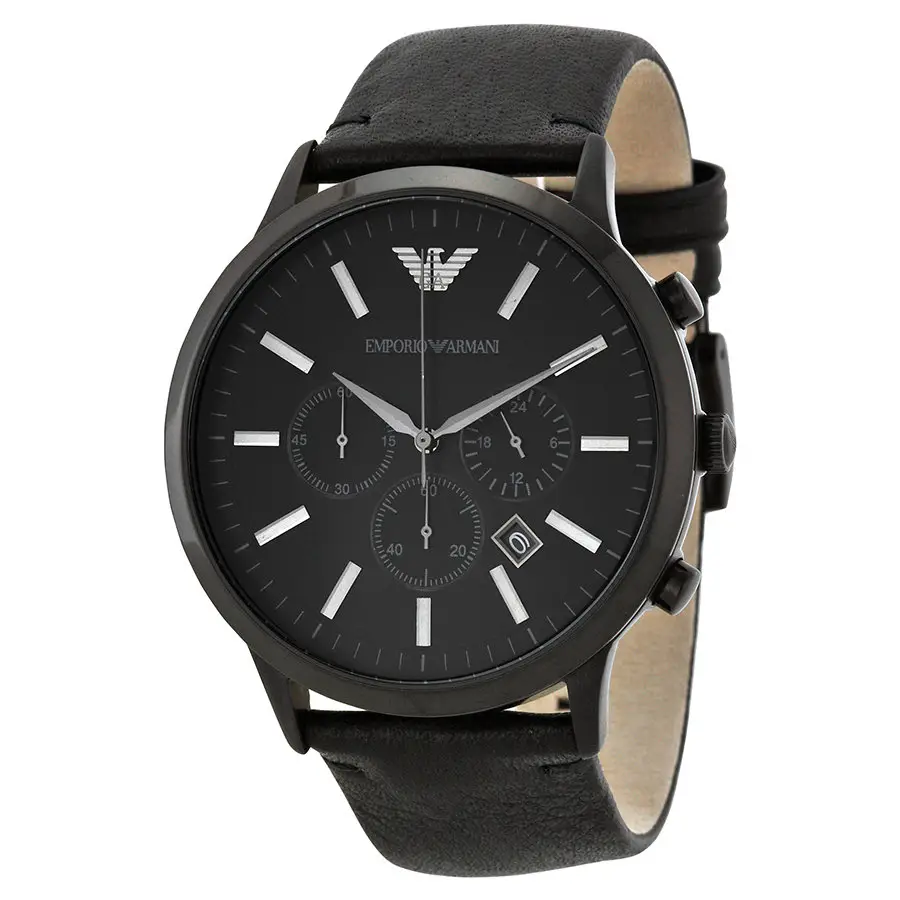 My Initial Thoughts On This Watch
This watch is a pretty traditional style when it comes to watches with chronograph features. I like how for the dial design they've decided to leave out any form of numerals and just have large markers and their Armani logo at the top. It has a very clean and sharp design, straight to the point as it were. I would be more than happy to wear this as one of my day to day watches as it's all black it will go with most set ups.
Type of glass
As I was expecting they've gone for a mineral glass. At this price range I wouldn't expect anything different. Mineral glass is specially hardened to resist most scratches and others can normally be buffed out if need me. If you are after something stronger like a sapphire glass for a similar price I would check out this Swiss Army watch.
Size
The diameter of the casing is 46mm which is actually pretty big. Most men's watches these days are 42mm so this is noticeably larger. If you are after something with an oversize style to it then this would suit you in my opinion. The thickness of the case is 12mm which is also classed as large, this ties in nicely with the larger casing diameter but doesn't make it too chunky.
Calendar
They've gone for a standard date display but I like how they've placed it between the 3 and 4 o'clock markers. Kind of mixes things up a bit with the design, it understandably would have been hard to fit it in the traditional position with the chronograph dials in the way.
Watch strap and clasp
The strap is made of genuine leather and features a standard buckle clasp. The width of the strap is 22mm which is just over average but fits well with the larger casing. I think it's great how they've kept with the all black design continuing that smart look throughout the watch.
Features:
Brand: Emporio Armani
Model: AR2461
Dial Window Material: Mineral
Clasp Type: Buckle
Case Material: Stainless Steel
Case Diameter: 46mm
Case Thickness: 12mm
Band Material: Genuine Leather
Band Width: 22mm
Calender: Standard Date Display
Movement: Precise Quartz Movement
Water Resistance: 3 Bar
Conclusion
Second Armani watch review complete. This one was a little more expensive and with the best will in the world if i'm being honest with myself I think you have to admit you pay a little bit for the brand here. You can get watches with similar specifications for quite a bit less (see my top 21 under 200). That being said however, if you're set on getting an Armarni watch this is a pretty nice design. It has a nice quartz movement and features a chronograph display. The hardened mineral glass is likely to come in handy too.
I have a couple of Armani watches myself so I'm guilty on plenty of occasions of paying for the brand so it's really up to people to make that decision themselves if they want to take this route. If you want value for money then do check out the Swiss Army watch I mentioned earlier. If you get a chance why not also check out my top 10 Armani watches for men.
Hope you found this Emporio Armani AR2461 review useful and enjoyable. You can find out the price and more details on Amazon