G-Shock GD-100MS-3ER Watch Review Summary
My rating: 8.5/10. Great watch. Value for money, durable watch.
Hello, today I'm doing a GD-100MS-3ER review. This is a military style timepiece with a reverse colour digital display. It's another extremely popular durable G-Shock watch that's affordable with an impressive 7 year approximate battery life.
I hope you enjoy this G-Shock GD-100MS-3ER review below.
You may also like my 100 best watches under £500 for men.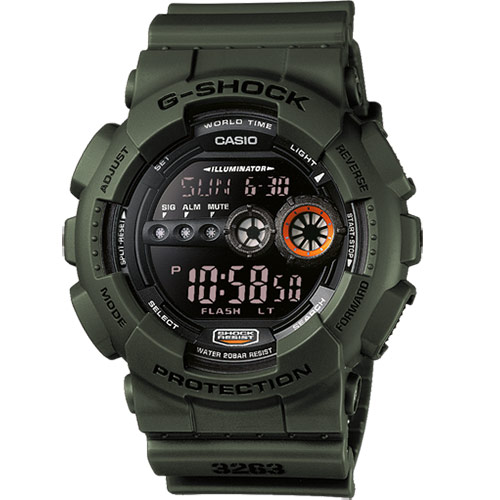 Latest reviews, ratings and prices: G-Shock GD-100MS-3ER watch
At the bottom of this article, you can find a list of my recommended retailers to purchase this watch from
Watch Review
Dial & Case Design
The case for this watch is pretty huge as you'd expect from Casio's collection of oversized G-Shock watches. This model has an interesting reverse colour digital display that makes things a little different. I think this works very well with the dark green resin surround of the stainless steel casing. These watches focus on shock resistance and that thick resin surround makes them extremely durable, sturdy watches.
Type Of Crystal
Protecting the front of the watch we have a specially hardened mineral crystal glass. This style is glass is exactly what I'd expect to find on a watch that's designed to offer shock resistance. The glass is scratch and shatter resistance, which makes it ideal for this type of watch.
Watch Movement
As we find with many of the G-Shock watches, this model has an impressive Japanese quartz movement. These movements are reliable, accurate, and require very little in the way of maintenance. This model even comes with an approximate 7 year battery life that's pretty damn good.
Watch Size
It's another typically large timepiece from the G-Shock range. This watch has an oversized style with a 51mm casing diameter and 18mm thickness. There's no doubting this is a chunky watch that's really going to stand out on your wrist, and many people love this feature. Just remember that if you have smaller wrists this type of oversized watch might not be ideal for you.
Strap
The strap is made of the same durable resin as the casing surround. It's comfortable and fairly thick, the width of the strap is 26mm that suits the rest of the watch sizing quite well. The strap fastens with a standard buckle style clasp.
Extra features
G-Shock are known for their multifunction capabilities and this timepiece is no different. Extra functions of this watch include a world time display,  countdown timer, 5 alarms, super led light, stopwatch, world time display, automatic calendar. There's also a display flasher, that's a light diode that flashes as soon as an alarm, a countdown-time or the hour signal has been reached.
Water Resistance Rating
The water resistance level of this watch is 200m, this is what you find in many of the G-Shock watches and something I'm always impressed with. A rating of 200m / 20 Bar / 600ft makes this watch suitable for professional marine activity, serious surface water sports and skin diving.
Watch Specifications
Band Resin strap, standard length, 26mm width, standard buckle style clasp.
Case Stainless steel casing with resin surround, sizing diameter: 51mm and thickness: 18mm.
Dial Digital display. The window lens is made of mineral glass, this is specially hardened to be resistant to scratches and knocks.
Movement Accurate Japanese Quartz movement.
Water Resistant A water resistance of up to 200m / 20 bar.
Watch Advantages
G-Shock watches are known for the excellent durability & toughness
Built for shock resistance
Popular oversized design
Reversed digital display
Backlight feature for easier reading in dim lit conditions
Multi-function watch with stopwatch, alarms, countdown timer, and world time display and more
Mineral glass offers a good level of scratch & shatter resistance
200m water resistance rating
Watch Disadvantages 
Being an oversized watch at 51mm this may not be suitable for people with smaller wrists
My Final Thoughts On This G-Shock GD-100MS-3ER Review:
The G-Shock GD-100MS-3ER is full of useful features and built to last. G-Shock are the go-to brand for many people seeking a durable watch that can withstand much more than your standard watch. They're highly functional with all their extra features that can come in handy. This would be ideal for something with an active outdoor lifestyle in need of a tough watch.
After looking into the watch design, quality, features, and pricing this watch received an 8.5/10 from us at The Watch Blog.
You may also like my 100 best watches under £1000
Where to buy the GD-100MS-3ER
I like to stick to listing retailers that I've actually had experience buying from in the past. Below I've listed some of the top places to buy this watch from, check all for the best price. Variations of this model include: GD-100MS-3ER
Buy now at Amazon
Buy at Watch Shop
Hope you enjoyed this G-Shock GD-100MS-3ER review. Find more watch reviews below.