Mondaine A658.30301.11SBV Watch Review Summary
My rating: 8.5/10. Great watch. Value for money, durable watch.
Hello, today I'm doing a Mondaine A658.30301.11SBV review. I'm a big fan of the Mondaine watch brand, I think they create some truly iconic timepieces that are well worth featuring. They're very popular and built to a high standard as you'd expect from a Swiss made watch.
I hope you enjoy this Mondaine A658.30301.11SBV review below.
You may also like my 100 best watches under £500 for men.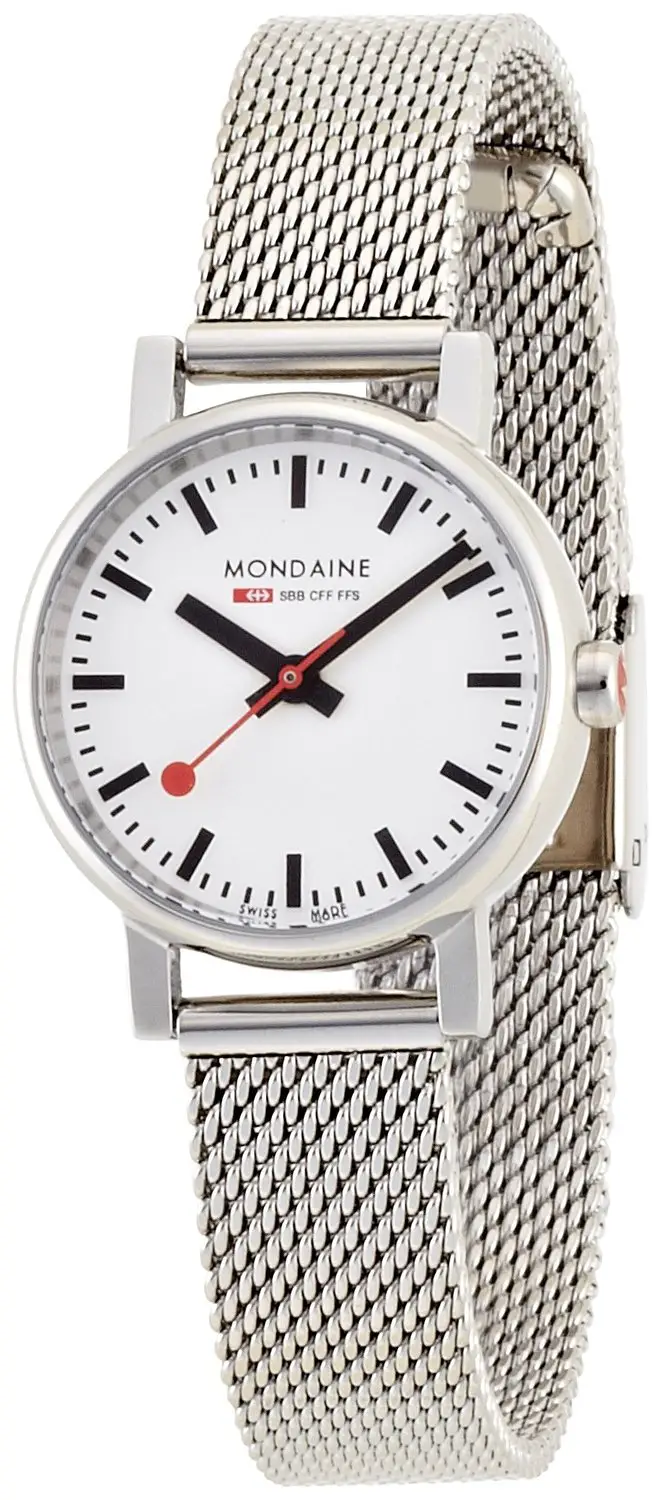 Latest reviews, ratings and prices: Mondaine A658.30301.11SBV watch
At the bottom of this article, you can find a list of my recommended retailers to purchase this watch from
Watch Review
Dial & Case Design
The Evo line, based on the iconic design of the Swiss railway station clock, features a gently rounded stainless steel case topped by a slightly domed mineral glass with a magnifying effect. Especially petite women's model with an extra-comfortable stainless steel mesh band which gives this watch this special retro look. Timeless Swiss design with an elegant twist. A key feature spotted on the Mondaine watches is the red seconds hand which has made the brand instantly recognizable.
Type Of Crystal
Protecting that stunning dial we have a specially hardened mineral crystal glass. This type of glass offers a reasonable amount of scratch and knock resistance for the money. At this price range, it's exactly what I was expecting to see so I'm quite happy with that.
Watch Movement
The watch features a Swiss-made quartz movement that's very accurate and extremely reliable. The Swiss quartz movements are typically higher end than your standard Japanese movement and are often more desirable.
Watch Size
This is quite a dainty watch with a casing diameter measuring 26mm. The thickness of the watch is also quite slim at just 8mm. It's a petite style watch that I'm sure many people will be really happy with.
Strap
I really like these mesh style straps on watches, I find them to be extremely comfortable and they're so easy to change the size of. This strap has a 5mm width that's pretty small, but in suit with the smaller watch casing, it fastens with a standard slip through clasp for these mesh straps.
Water Resistance Rating
The water resistance level of this watch is 30m. A rating of 30m / 3 Bar / 100ft makes this watch suitable for everyday use. Splash/rain resistant. Not suitable for showering, bathing, swimming, snorkelling, water related work and fishing.
Watch Specifications
Band Stainless steel strap, standard length, 5mm width, standard slip through style clasp.
Case Stainless steel casing, sizing diameter: 26mm and thickness: 8mm.
Dial Analogue display. The window lens is made of mineral glass, this is specially hardened to be resistant to scratches and knocks.
Movement Accurate Swiss Quartz movement.
Water Resistant A water resistance of up to 30m / 3 bar.
Watch Advantages
Mondaine are a well recognized iconic Swiss brand
Features a Swiss made quartz movement
Mesh style stainless steel strap
Domed mineral glass offers a good level of scratch & shatter resistance
30m water resistance rating
Watch Disadvantages 
If you're new to this style of strap you may find it a little hard to operate at first.
My Final Thoughts On This Mondaine A658.30301.11SBV Review:
The Mondaine A658.30301.11SBV is an extremely stunning ladies Swiss made timepiece. The design is iconic and extremely popular, and the components are all fairly high end making this pretty good value for money overall. I own one of the men's Mondaine watches and have been extremely pleased with the quality of timepiece coming from this brand.
After looking into the watch design, quality, features, and pricing this watch received an 8.5/10 from us at The Watch Blog.
You may also like my 100 best watches under £1000
Where to buy the Mondaine A658.30301.11SBV
I like to stick to listing retailers that I've actually had experience buying from in the past. Below I've listed some of the top places to buy this watch from, check all for the best price. Variations of this model include: Mondaine A658 30301 11SBV, A658-30301-11SBV, A658/30301/11SBV, A6583030111SBV
Buy now at Amazon
Buy at Watch Shop
Hope you enjoyed this Mondaine A658.30301.11SBV review. Find more watch reviews below.