Braun BN0032WHSLMHG Watch Review Summary
My rating: 8/10, Minimalist, mesh strap.
Braun BN0032WHSLMHG watch is ideal for those looking for an aesthetically clean minimalist style watch. With it's clear white dial design and small scale numbers this watch has a spacious feel to it. There's a simple highlighter date display with the red pointer which along with the yellow seconds timer adds a slight flash of colour to the otherwise monochrome watch.
You may also like my 100 most popular watches under £500.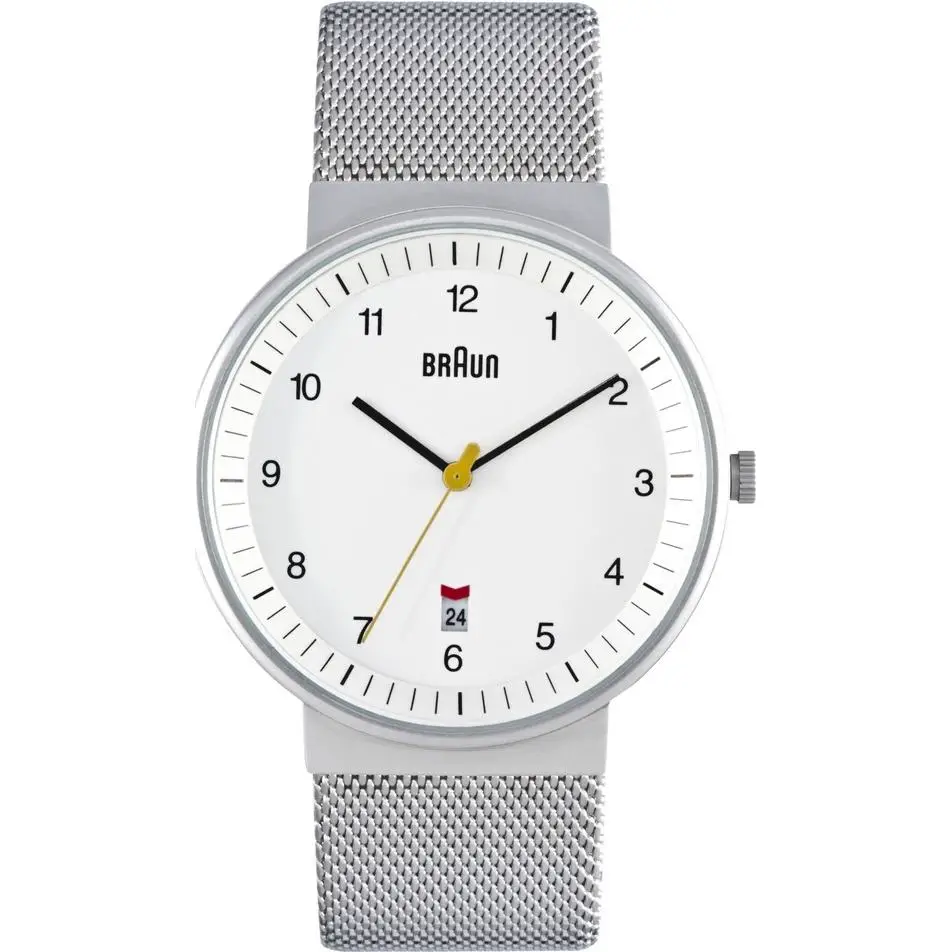 Latest reviews, ratings and prices: Braun BN0032WHSLMHG watch
Watch Specifications
Band Stainless steel mesh style strap, standard length, 22mm width, fold over style clasp.
Case Stainless steel case, sizing diameter: 40 mm and thickness: 8 mm.
Dial Spacious clean dial. Tough scratch resistant mineral glass. Simple date display
Movement Accurate quartz movement. Analogue display.
Water Resistant A water resistance of up to 50m / 5 bar.
Watch Advantages
Popular mesh strap.
Lightweight design.
50m water resistance, suitable for swimming, white water rafting, non-snorkelling water related work, and fishing.
Watch Disadvantages 
The date display is small which some may find hard to read.
My Final Thoughts On This Braun BN0032WHSLMHG Review:
Braun BN0032WHSLMHG watch is perfect for those who are after a blend of simplicity in design and reliability. I rather like the use of the miniature sizing for the hour markers, it leaves so much space on the dial which works perfectly for the overall watch style. Braun may not be the first brand you think of when you're looking for a new watch but they can definitely hold their own against other popular brands. The main downside as I mentioned before would be the possibility of struggling to read the date. I personally like the date display but it's worth keeping it in mind. Overall a very nice watch that I've enjoyed taking a look at today.

Buy Now: Braun BN0032WHSLMHG watch
Hope you enjoyed this Braun BN0032WHSLMHG review. Find more watch reviews below.