Hello everyone, today I've put together a Tommy Hilfiger watches review for you. I'll be covering some frequently asked questions, teaching you about the history of the Tommy Hilfiger brand and finishing off with a look at 5 of their most popular watches currently available. As always, if you have any questions I'm always more than happy to help out, just comment below and I'll get back to you.
Tommy Hilfiger History
Tommy Hilfiger is an American brand with a focus on premium clothing. They manufacture clothing, footwear, accessories (watches) and fragrances along with a few other minimal lines. Tommy Hilfiger was founded back in 1985 and has grown to have retail stores in over 100 countries. They're a rather impressive brand. If you want to learn all about the history of Tommy Hilfiger brand I highly recommend their wikipedia page.
Is Tommy Hilfiger A Good Brand For Watches?
Tommy Hilfiger are a designer watch brand with a focus on affordability and style. Whether a watch is suitable for you often comes down to what it is you're personally looking for. Do you want a stylish timepiece whilst not being too fussed what's under the hood movement wise? Then Tommy Hilfiger could be ideal for you. They're comparable to the likes of Emporio Armani watches and Hugo Boss. If on the other hand you're a fan of a high quality movement then I'd probably opt for something like a Seiko or perhaps a Hamilton watch if you're after something a little fancier.
How Much Are Tommy Hilfiger Watches?
This brand is what I'd class as affordable. You often find their timepieces priced between £100 – £200 which is fairly reasonable for a designer brand in my opinion.
Where Are Tommy Hilfiger Watches Made?
As with many designer brands the majority of Tommy Hilfiger watches are produced in Asia. There's nothing wrong with this, it's the same for many of the top fashion brands in the industry to be honest.
Where To Buy Tommy Hilfiger Watches?
When it comes to recommendations I like to stick to suggesting places I've actually purchased from in the past. Amazon is normally a good start as they have such a large offering available. Alternatively there's The Watch Shop, I normally wait for the sales to come round myself then browse and pick up a few at a time.
Best Tommy Hilfiger Watches
To finish things off I'd like to showcase 5 of the most popular Tommy Hilfiger watches currently available. My favourite is actually the last one at number 5 so make sure you check that one out.
If none of these are quite your style you can view all of their watches in this price range here.
Don't forget to let me know what you think in the comments below, look forward to hearing what you all think.
1. Tommy Hilfiger Calan Men's Quartz Watch with Grey Dial Analogue Display and Silver Stainless Steel Bracelet 1791086
First up we have this quality, large faced stainless steel watch from Tommy Hilfiger. The casing diameter is 45mm which is classed as large, while the thickness is classed as average at 10mm. I think the textured design of the dial is a great addition to this watch.
2. Tommy Hilfiger Owen Men's Quartz Watch with Blue Dial Analogue Display and Blue Rubber Strap 1791040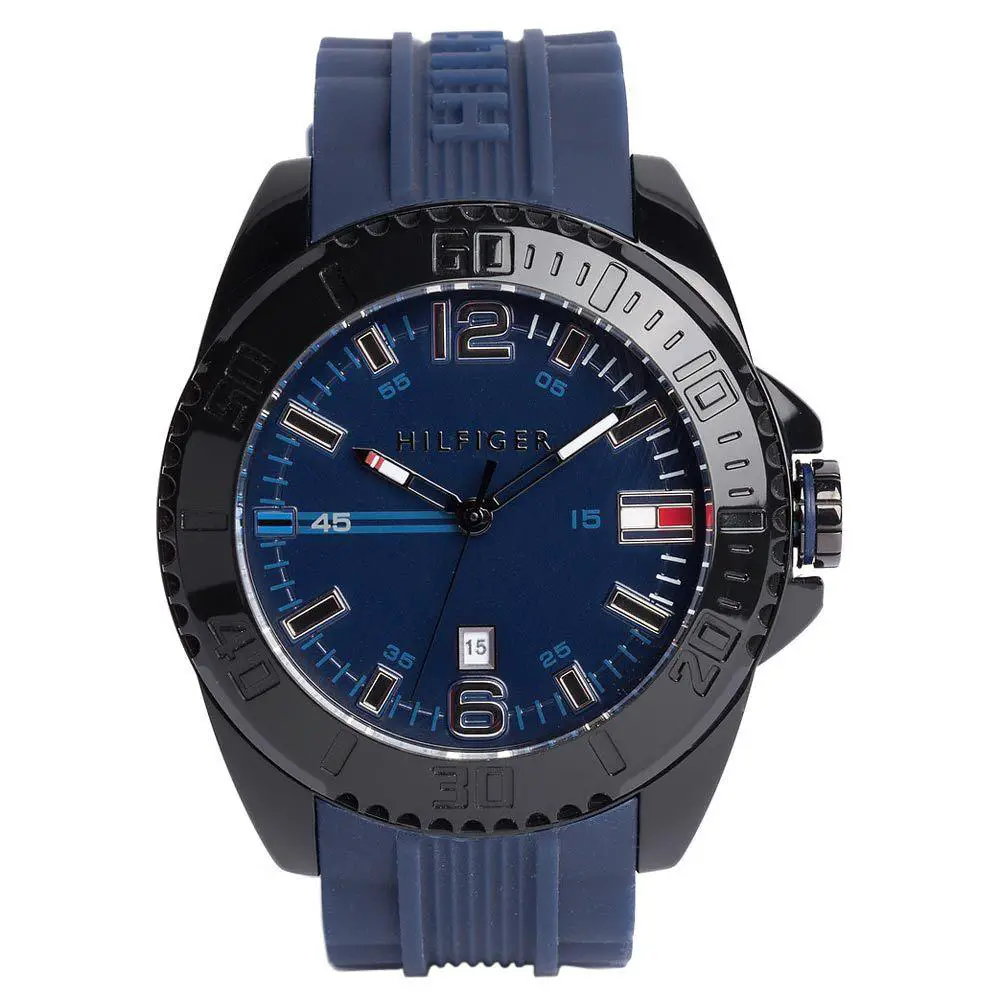 A bit of a sportier model up next, this watch has a durable rubber strap to go with it's larger casing at 43mm. The watch features a specially hardened mineral crystal glass which is typical of watches around this price range.
3. Tommy Hilfiger Gabe Men's Quartz Watch with Black Dial Analogue Display and Black Leather Strap 1710335
Another nice chronograph edition here, have to say I rather like the smart, sleek style this watch has to it. Looking at the size of the watch, it's casing diameter is 46mm, so quite sizeable, while the thickness is 9mm, avoiding that chunky look.
4. Tommy Hilfiger George Men's Quartz Watch with Black Dial Analogue Display and Black Leather Strap 1710342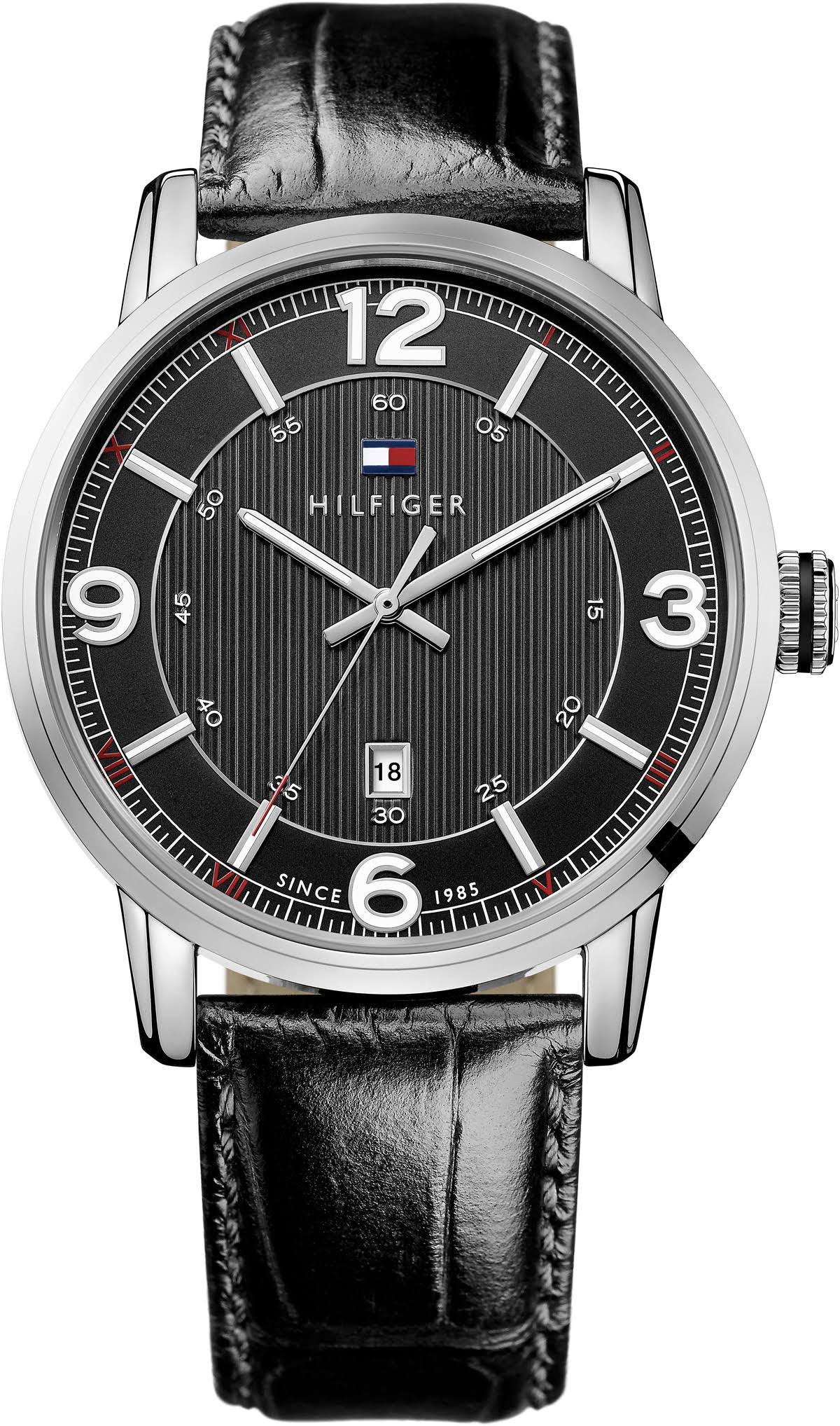 This is a pretty stunning watch if you ask me. The textured inner dial design and the red detailing adds for an interesting design. They've also managed to keep it extremely easy to read with the large numerals. I think keeping the date display at the bottom of the dial was a good design choice and keeps to the symmetry of the watch.
5. Tommy Hilfiger Peter Men's Quartz Watch with Black Dial Analogue Display and Black Leather Strap 1791103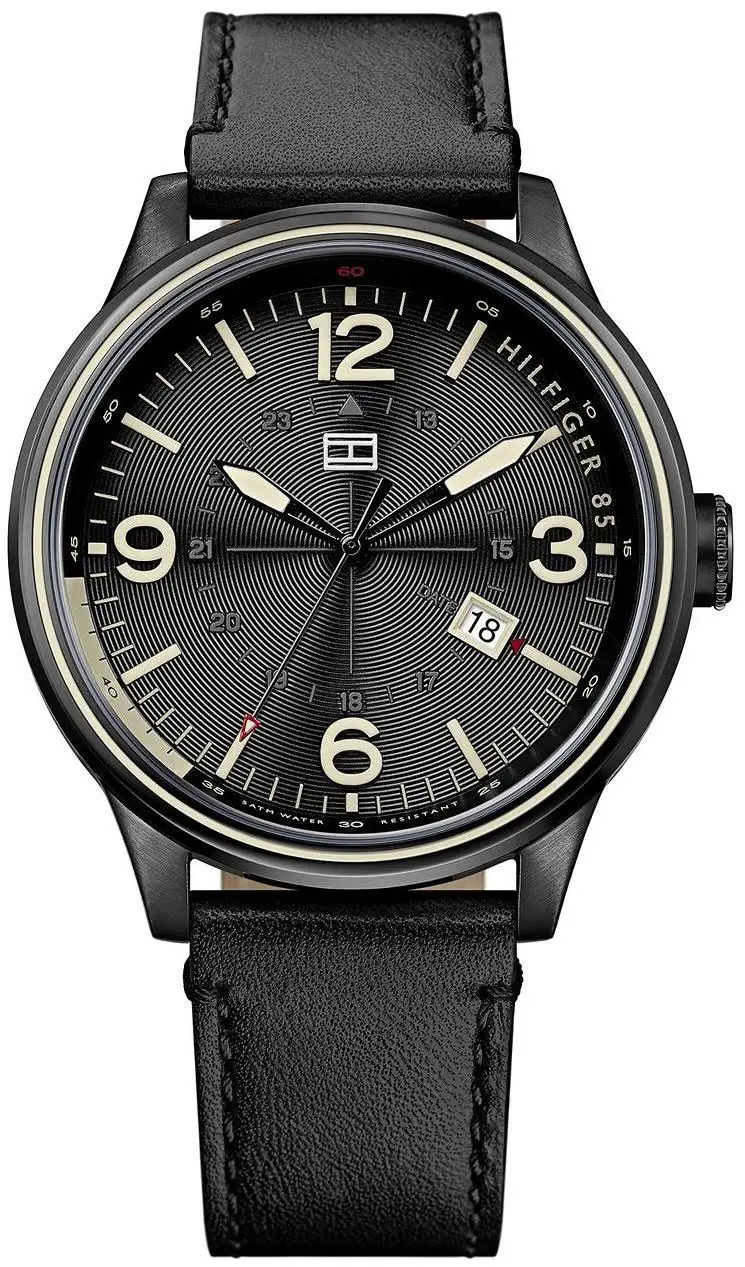 This last and finale one in today's post has to be my favourite. It's got an ultra smart look to it and the dial just looks phenomenal. Considering the price of this I'd be more than happy to add it to my collection soon. It's got everything I look for in an affordable watch to be honest.
Conclusion
Thanks for having a read through, hope you found that helpful and enjoyable. As I said my personal favourite has to be this last one, just the design is completely up my street and what I would go for.
Why not take a look at some of my other popular articles next, there's my best watches under £100 or if you have a bigger budget why not my ultimate list of 100 watches under £500.
Don't forget to leave a comment below and follow us online.