Samsung has just released two premium editions of the Gear S2 to add to it's collection. One is in platinum whilst the other in 18-carat rose gold. The watches were unveiled at the tech giant's press conference in Las Vegas ahead of the Consumer Electronics Show (CES)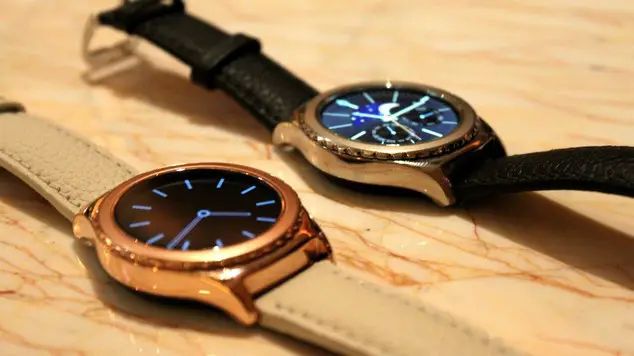 Since 2013 smartwatches have exploded in popularity with Samsung releasing it's first Galaxy Gear. The current gen Gear S2 was launched last year.
Samsung's Younghee Lee was at the event and said the following 'In 2015, we set a new standard with the Gear S2 in smart wearable category. We broke barriers to introduce one of Samsung's most progressive wearable devices to date. In 2016, we will continue to raise the bar, so that we can deliver products that our customers want most.'
The new Gear S2 classic is also going to include NFC technology to be able to offer Samsung Pay. This is going to be available to Gear S2 users starting in the US early this year.
Samsung has also increased it's selection of watch straps and face designs after partnering with designers including Colombo for premium straps for the Gear S2
Samsung also confirmed at the event that the Gear S2 will have compatibility for Apple's iOS at some point later this year. This move will make it possible for iPhone users to connect their device to a Gear S2 in order to use it.
Other manufactures, Huawei and Pebble to name a few already have already made their devices compatible across multiple platforms. Apple watch is only compatible with its own iOS.
In the race to gain fashion driven buyers many of the smartwatch manufactures are trying to come out with more popular designs. With rose gold booming in popularity among many watch buyers this has become a material of choice as a result. The rose gold case will have an ivory genuine leather band whilst the platinum will come with a black genuine leather band. Prices are yet to be announed.