Seiko SNK803 Watch Review Summary
My rating: 8.5/10. Seiko 5 SNK803 watch, also known as the SNK803K2. Affordable quality timepiece.

Hello, today I'm doing a Seiko SNK803 review. This is another colour variant of the popular Seiko SNK809 which has been a massive hit for Seiko. These are a collection of high quality extremely affordable timepieces that offer brilliant value for money.
I hope you enjoy this Seiko SNK803 review below.
You may also like my: 100 Best Watches Under £500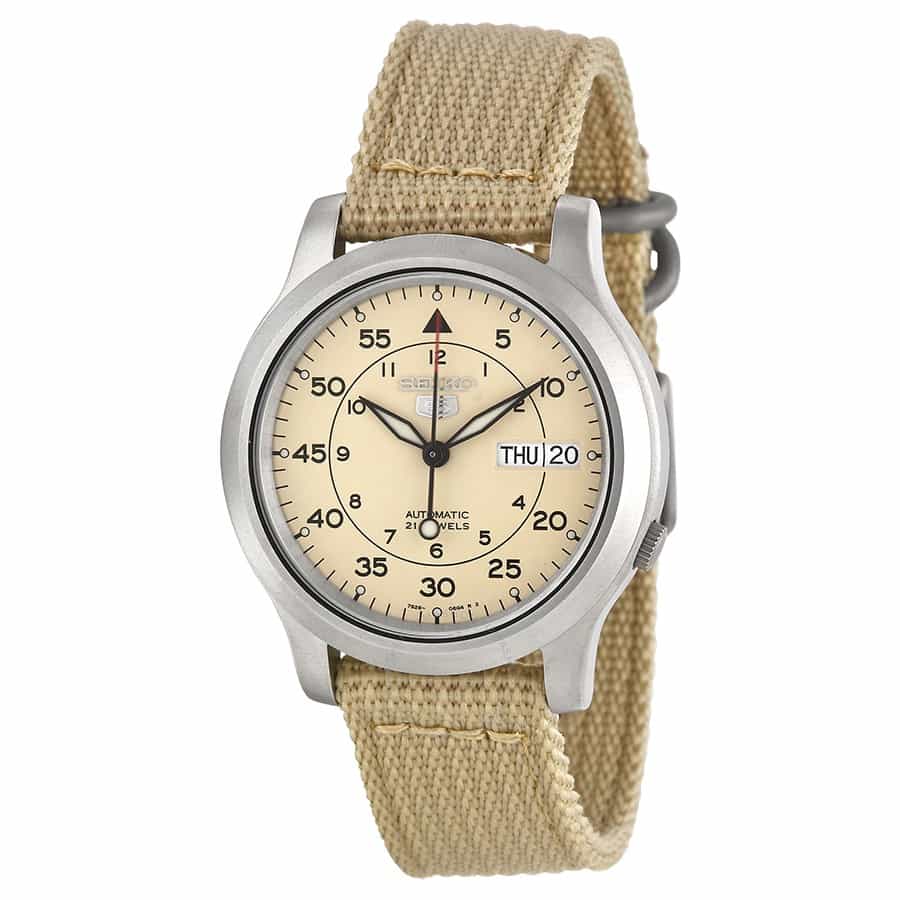 Latest reviews, ratings and prices: Seiko SNK803 watch
At the bottom of this article, you can find a list of my recommended retailers to purchase this watch from
Seiko SNK803K2 Watch Review
Seiko SNK803k2 Dial & Case Design
This watch is commonly listed as the Seiko SNK803 or Seiko SNK803K2. I love the easy to read simple dial design of this model. The hands and hour markers are coated in lume which make them easier to read in dim lit conditions too.
The casing is made of a strong stainless steel and features an exhibition glass caseback to let you view the movement of the watch.
Seiko SNK803 Type Of Crystal
The Seiko SNK803K2 features a Hardlex crystal glass which is found in many of the most popular Seiko 5 watches. This Hardlex glass gives the watch a good level of both scratch and knock resistance.
Seiko SNK803 Watch Movement
At the heart of the timepiece is the popular Seiko 7S26 automatic movement. This movement has 21 jewels and a 43 hour power reserve. The movement beats at 21,600 BPH giving the watch a really smooth 6 ticks per second. The movement doesn't feature manual winding or hacking.
Seiko SNK803 Watch Size
Like the rest of the SNK Seiko series, this model has a smaller profile than many watches you see available these days. The casing has a diameter of the casing measures 37mm, not including the crown. The thickness of the casing is 11mm. This makes the watch a medium size by today's standards.
Seiko SNK803K2 Strap
The strap of the SNK803k2 is made of a sturdy cream coloured canvas fabric that matches up with the colour of the dial. It measures 18mm in width which goes well with the smaller casing size. It fastens with a standard buckle style clasp. This strap can be replaced if you decide you want to, the gap between the lugs is 18mm.
Seiko SNK803 Extra Features

One of my favourite features on this watch is actually hidden from most observers, it's the exhibition caseback that lets you take a peek at the inner workings of the movement through the rear casing of the watch.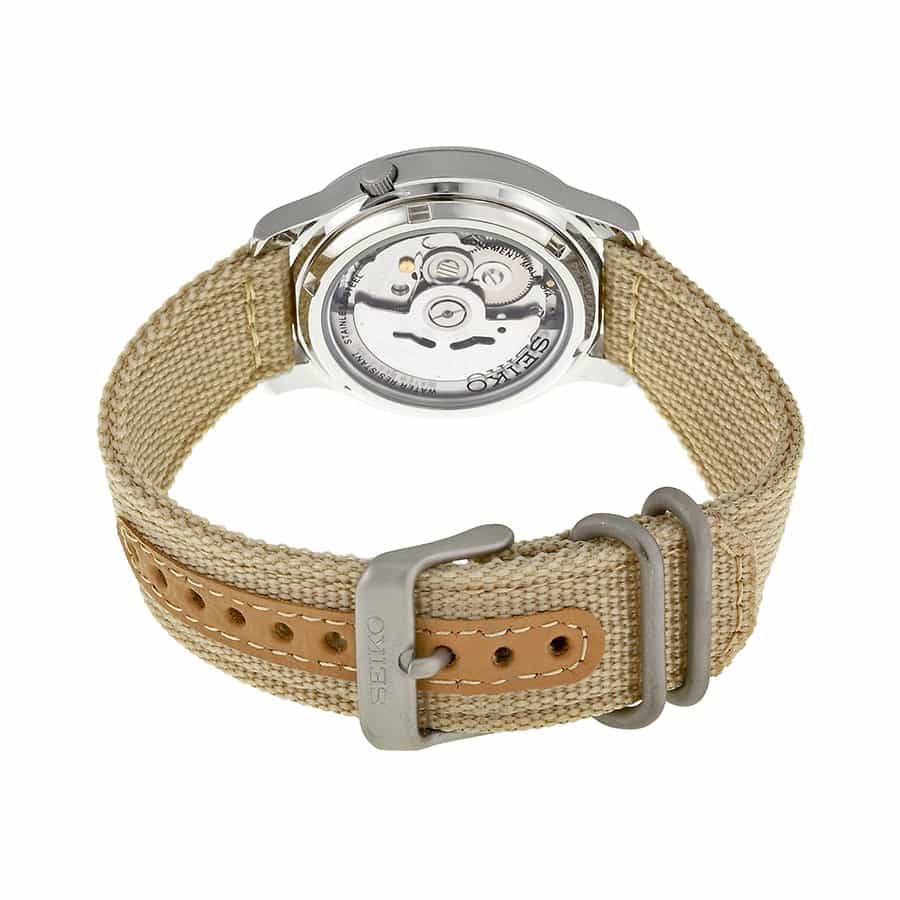 Seiko SNK803 Water Resistance Rating
This is an affordable watch that isn't really designed for water wear and as such has a relatively basic water resistance rating. A 30m or 3 bar rating makes this watch suitable for everyday use. Splash/rain resistant. Not suitable for showering, bathing, swimming, snorkelling, water related work and fishing.
SeikoSNK803 Watch Specifications
Band: Canvas strap, standard length, 18mm width, buckle style clasp.
Case: Stainless steel casing, sizing diameter: 37mm and thickness: 11mm.
Dial: Analogue display. Hardlex crystal glass window lens.
Movement: Japanese Automatic movement.
Water Resistant: A water resistance of up to 30m / 3 bar.
Seiko SNK803K2 Watch Advantages
High visibility display
Luminous hands
Day and date display
Hardlex crystal
Exhibition caseback
Popular 7S26 Japanese automatic movement
Seiko SNK803K2 Watch Disadvantages 
The watch has a smaller 37mm build so it may not be suitable for people with larger wrists
My Final Thoughts On This Seiko SNK803K2 Review:
It's well worth checking out my 14 Best Seiko 5 watches where you can take a look at many of the top timepieces from Seiko.
Overall I'm a big fan of the whole SNK series, typically the SNK809 is the most popular, however, I'd definitely consider going for this model next. The 7S26 automatic movement at the heart of the watch is a popular workhorse movement that's favoured in the community. It's a great timepiece that offers a good level of quality for a very reasonable price in my opinion.
After looking into the watch design, quality, features, and pricing this watch received a 8.5/10 from us at The Watch Blog.
You may also like my Best Watches For Teens
Where to buy the Seiko SNK803

I like to stick to listing retailers that I've actually had experience buying from in the past. Below I've listed some of the top places to buy this watch from, check all for the best price. Variations of this watch include: Seiko SNK803, Seiko SNK803K2.

Buy now at Amazon
Buy at Watch Shop Unavailable

Hope you enjoyed this Seiko SNK803 review. Find more watch reviews below.