Seiko 5 Gent Men's Automatic Analogue Watch SNXS79K Review
Hello today I'm doing a Seiko SNXS79K review. When I have the time I do like to put the effort in to feature extra affordable watches from solid brands that I consider well worth people considering. This watch was perfect as it's under £60 and it's from the brand Seiko which are well known for having made brilliant quality watches for a very long time.
Anyway, I'll get on with my SNXS79K review below and you can find it on Amazon, enjoy.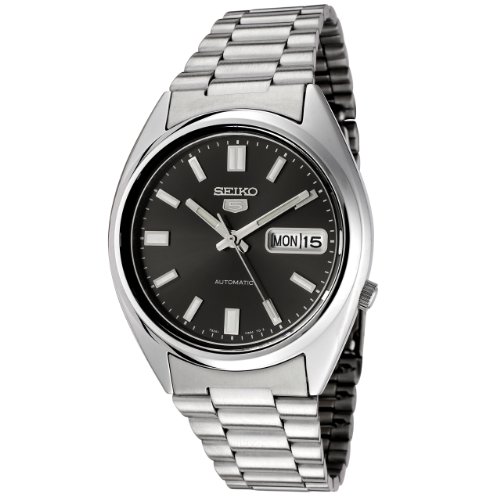 My Initial Thoughts On This Watch
This watch is a brilliant all rounder when it comes to value for money. At under £60 you get a lot of watch which is good. For some reason the RRP originally was £250, now let's be honest this isn't a £250 so I would never have suggested buying it at that price but for the low cost of under £60 now it's definitely worth our time to look at. The dial is pretty much straight to it no messing about, easy to read hands and hour markers both of which are luminous so will be easy to read in the dark.
It's also worth noting this is a automatic self winding watch which I love. You'll need to fully wind it before first wearing it then if you wear it out each day it should store all the energy you ever need. If you leave it off for a couple of days you should expect it to stop running, but then all you do is simply give it it's initial wind and start over.
Type of glass
The type of glass used here is a mineral crystal. This is a decent hardness rating that will prevent a fair amount of scratches. Obviously don't expect it to do the same standard as a sapphire glass would do but that's more for watches that are £300+.
Size
Now looking into the size I personally consider the 38mm case diameter to be a little small for me, my proffered size is the 42mm you see a lot more often these days. At 38mm it is still classed as an average size so you may find it to be perfectly fine, Seiko do sometimes go for slightly smaller watches. The thickness is 12mm which is classed as large so it's like a small but slightly chunky design.
Calendar
Due to there being no numerals on the dial it was pretty easy to fit in a nice large date and day display on the dial. Now the watch can showcase the date with the day of the week next to it.
Watch strap and clasp
The watch features a standard stainless steel fold over clasp, I honestly wouldn't expect any different at this low price really. The strap is only 16mm whereas the average these days in 20mm. This is likely due to the smaller size of the overall watch, so would actually fit in better.
Features:
Brand: Seiko
Model: SNXS79K
Dial Window Material: Mineral
Clasp Type: Fold Over Clasp
Case Material: Stainless Steel
Case Diameter: 38mm
Case Thickness: 12mm
Band Material: Stainless Steel
Band Width: 16mm
Calender: Day And Date Function
Movement: Automatic Self Winding
Water Resistance: 3 Bar
Conclusion
I'm glad I've taken the time to have a proper look at this watch. I do love being able to showcase some honest reviews for affordable watches. I think this is great value for the money, it's a well known brand watch with good features and good parts. If you get a chance why not also check out my top 50 watches under £50, you're bound to see another watch you also like to have a little comparison with and get what suits you best.
Hope you found this Seiko SNXS79K review useful and enjoyable. You can buy this watch on Amazon
What to read next: