Rotary GS00342/06 Watch Review Summary
My rating: 8.5/10. Great watch. Value for money skeletonised watch design.
Hello, today I'm doing a Rotary GS00342/06 review. I recently wrote an article on the 10 best Rotary Skeleton watches for men and promised I'd take a closer look at each one of the watches featured in that list. Today we're taking a look at the GS00342/06 in more detail, I'm a big fan of this watch so I'm excited to be having a close look at it today.
I hope you enjoy this Rotary GS00342/06 review below.
You may also like my: Best Rotary Watches.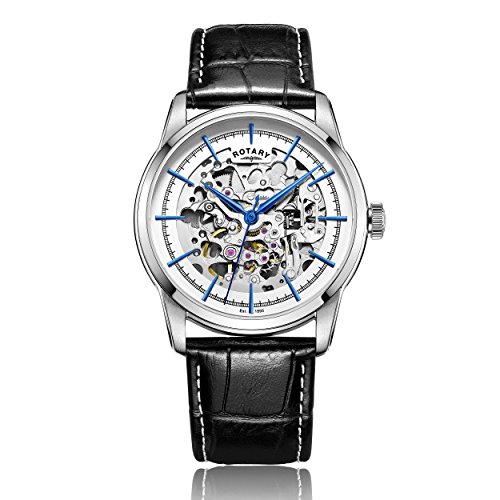 Latest reviews, ratings and prices: Rotary GS00342/06 watch
At the bottom of this article, you can find a list of my recommended retailers to purchase this watch from
Watch Review
Dial & Case Design
One of the most impressive aspects of this watch is that stunning exposed dial that showcases the automatic movement of the watch. Complimenting this is the clever use of blue detailing on the watch hands and hour markers that really makes this watch stand out on the wrist. Most regular readers will be well aware that I rank this as one of the top Skeleton Rotary watches available.
Type Of Crystal
Protecting both the front and rear of the watch is a mineral crystal glass that's been specially treated to make it extra resistance to scratches and knocks, this is also highly shatter resistant for that extra protection in case you do manage to drop your watch.
Watch Movement
At the heart of the watch is a nice Japanese automatic movement, the same found on many of these Rotary automatic watches. You can view this movement at work through the open heart dial or the exhibition caseback, either way, it's interesting to take a look at. Automatic movements are great as they never require batteries and power themselves from the movement of the wearer's wrist.
Watch Size
With a casing diameter of 40mm and a thickness of 11mm the watch is fairly well sized for most men. The average large men's watch tends to be around 40mm so this will suit the majority of people.
Strap
The strap is made of a comfortable genuine leather with a dark tan colour. It measures 22mm wide and is perfect for this watch's casing size. The strap fastens with a typical buckle style clasp that can be seen in the picture further below.
Extra features
One of the key features for this watch is the exhibition caseback that allows you to take a look at the inner workings of the watch with its mechanical movement.
Water Resistance Rating
This watch has a water resist rating of 30m. A rating of 30m / 3 Bar / 100ft makes this watch suitable for everyday use. Splash/rain resistant. Not suitable for showering, bathing, swimming, snorkelling, water related work and fishing.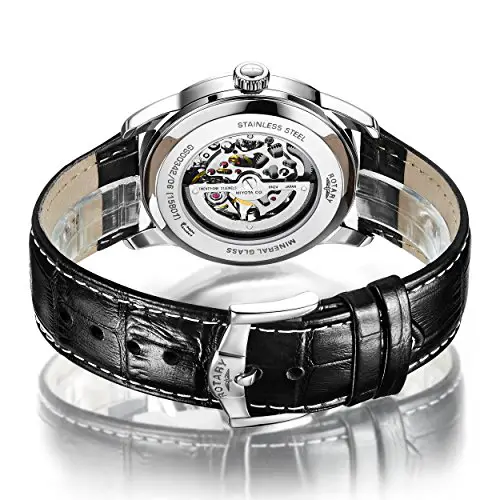 Watch Specifications
Band Genuine leather strap, standard length, 22mm width, standard buckle style clasp.
Case Stainless steel casing, sizing diameter: 40mm and thickness: 11mm.
Dial Analogue display. The window lens is made of mineral glass, this is specially hardened to be resistant to scratches and knocks.
Movement Accurate Japanese automatic movement.
Water Resistant A water resistance of up to 30m / 320 bar.
Watch Advantages
Rotary are one of the best affordable watch brands
Mineral glass offers a good level of scratch & shatter resistance
Automatic movements means you no longer require batteries
Exhibition caseback allows you to take a look at the movement
30m water resistance rating
Watch Disadvantages 
The water resistance rating isn't that high so might not be ideal for everyone
My Final Thoughts On This Rotary GS00342/06 Review:
The Rotary GS00342/06 is a beautiful piece of wristwear, Rotary have a large selection of watches in this style and I'm a big fan of the lot of them. The watches are great quality & built extremely well as you'd expect from such a big brand. Overall I'm very pleased with this watch and a complete sucker for that style of blue detailing on the dial.
After looking into the watch design, quality, features, and pricing this watch received an 8.5/10 from us at The Watch Blog.
You may also like my 100 best watches under £1000
Where to buy the Rotary GS00342/06
I like to stick to listing retailers that I've actually had experience buying from in the past. Below I've listed some of the top places to buy this watch from, check all for the best price. Variations of this model include: GS00342/06
Buy now at Amazon
Buy at Watch Shop (Unavailable, few alternative Rotary watches)
Hope you enjoyed this Rotary GS00342/06 review. Find more watch reviews below.