Casio G-Shock GA-200-1AER Watch Review Summary
My rating: 9/10, Excellent watch. Durable oversized design.
Casio G-Shock GA-200-1AER watch is ideal for people who work in the construction industry. You'll find plenty of builders and even mechanics who swear by G-shock watches. They're feature rich and extremely durable bulky watches, this one has a stainless steel core that's wrapped in shock absorbing resin. This design makes it extra bulky with a thickness of 17mm. The dial uses raised hour markers and this cross design on the centre to add a layer of depth which adds an interesting feature to the watch. I'll detail all this G-shock's features in the specifications section below.
You may also like my 21 most recommended men's watches under £200.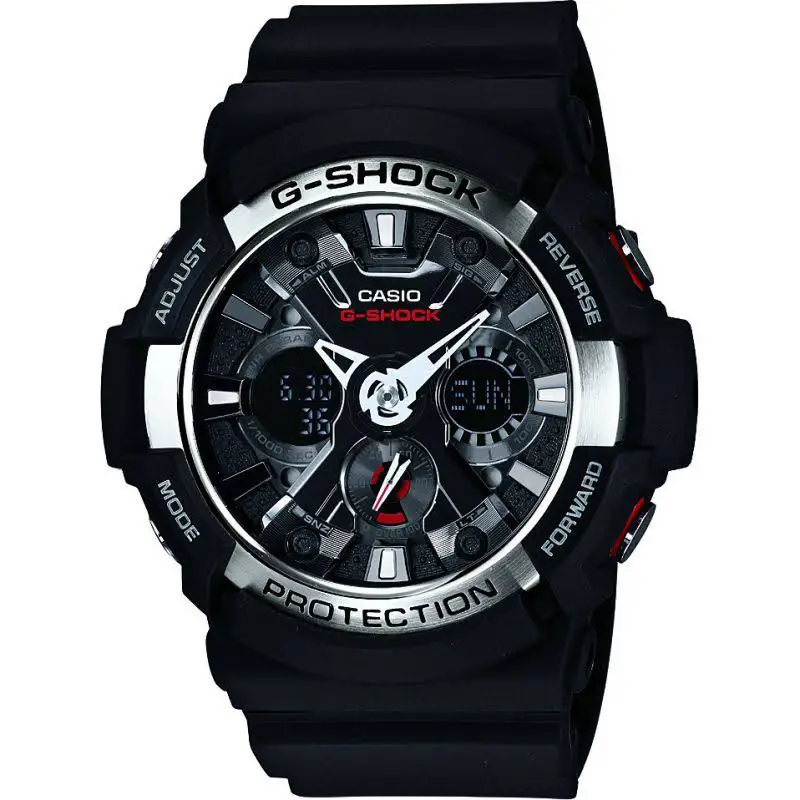 Latest reviews, ratings and prices: Casio G-Shock GA-200-1AER watch
Watch Specifications
Band Wide resin strap, standard length, 25mm width, buckle clasp.
Case Stainless steel case wrapped in durable resin, sizing diameter: 53 mm and thickness: 17 mm (note this is an extra large oversized watch)
Dial Multiple displays, logo at the 12 O'clock position. Durable mineral glass offers protection from scratches.
Movement Japanese quartz movement. Analogue & digital display.
Water Resistant A water resistance of up to 200m / 20 bar.
Illuminator An electro-luminescent panel causes the entire face to glow for easy reading. The illuminator stays switched on for a few seconds after release due to it's after-glow feature.
Multi Alarm Add up to 5 independent alarms to remind you about recurring events. You can even add hourly time signals.
Countdown Timer Set a countdown timer from anywhere between 1 minute up to 24 hours
Stop watch Another handy feature
Watch Advantages
Feature rich watch for an affordable price.
Extra durable design with the added resin.
200m water resistance, suitable for professional marine activity, serious surface water sports and skin diving.
Watch Disadvantages 
Due to it's extra large design this watch may not be ideal for those with smaller wrists.
My Final Thoughts On This Casio G-Shock GA-200-1AER Review:
Casio G-Shock GA-200-1AER watch really does just make sense as the right choice of watch for those who need a timepiece that can take a hard day. Any of the G-shock series are worth considering as they are all well built watches designed to be durable. I rather like the design of this watch and the idea of cleverly adding that feeling of depth to the dial, not something you see that often. The only downside as mentioned before would be that due to it's large size, some people wont find a watch this big very comfortable on their wrist. If you have a chance get a tape measure and compare 52mm on your wrist to see how big it would look. Other than that, like the rest of the Casio series, the GA-200-1AER is a watch I'd be happy to recommend.

Buy Now: Casio G-Shock GA-200-1AER watch
Hope you enjoyed this Casio G-Shock GA-200-1AER review. Find more watch reviews below.