Most Expensive G-Shock
Hey everyone, today we're going to be taking a look at one of the most expensive G-Shock watches available. This watch is the ultimate G-Shock in my opinion, it's one of the most exclusive timepieces available from Casio and is perfect for outdoor use as well as having a style that's suitable for formal occasions.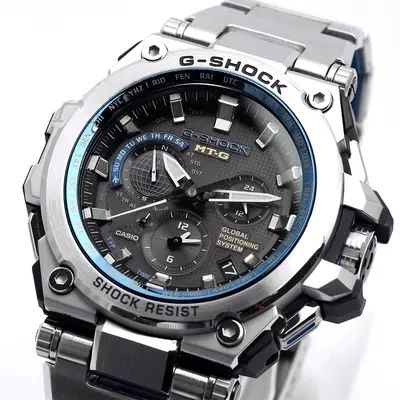 It's the type of watch I imagine the CEO of an outdoor clothing company to be proud of wearing. So if you can afford it, the MTG-G1000D is one of the best G-Shock watches you could go for.
Also read: best affordable outdoor watches
The Casio G-Shock MTG-G1000D-1A2JF Review
We already know this is an impressive, expensive high end G-Shock watch, but what makes it possible for this timepiece to demand such a high valuation? I'm going to be going through some of the specifications and features of this expensive G-Shock watch to show you what makes it so good.
Casing And Dial Design
As I'm sure many of you are aware, Casio's collection of G-Shock watches are known for their oversized designs, this model is no different. The casing of the watch is made with a combination of stainless steel and resin with a massive diameter of 55mm and a thickness of 17mm. This makes it a pretty big watch that's bound to stand out on your wrist.
The dial has a textured background design and makes use of 3 sub-dials to display the various information available from this watch. The hands and hour markers also have a coating of lume for better visibility in dim lit conditions. It also makes use of a LED backlight for a light blue illumination to ensure good visibility.
Strap Design
The strap is made of stainless steel and resin composite with a one-touch 3 fold clasp and solid band. This provides a tough yet comfortable fit to your wrist which is perfect for this type of G-Shock watch.
Features of this expensive G-Shock watch
As you'd expect, this expensive G-Shock watch comes with a range of impressive useful features and functions. Below I've listed just a few of the features available on this timepiece:
Stopwatch and countdown timer
Solar charging
Triple G Resist (vibration, gravitational, centrifugal)
World time display with 40 time zones
GPS Hybrid Wave Ceptor
Atomic timekeeping using Multi Band technology
200m water resistance rating
Perpetual automatic calendar
These are just some of the features available with this watch, in the past, we've had G-Shock timepieces that feature a few of these functions, but rarely all in one watch.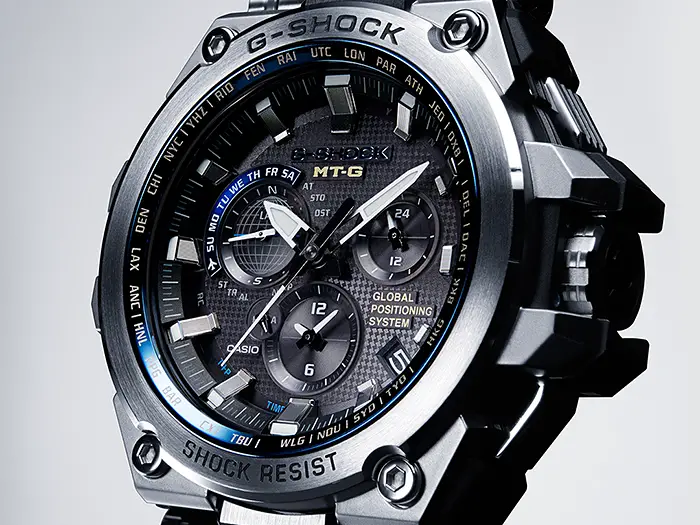 Crystal
This expensive G-Shock timepiece features one of the best scratch resistant glass lenses available. They've used a thick sapphire crystal lens that has a Mohs hardness rating of 9 which would require something with the hardness of a diamond to scratch it. This lens is coated with an anti-reflective coating to minimize glare.
Water Resistance
The water resistance rating of the G-Shock MTG-G1000D-1A2JF is a very impressive 200m, also known as 20 bar. As per Wikipedia, this is suitable for professional marine activity, serious surface water sports and skin diving.
G-Shock MTG-G1000D-1A2JF Pros & Cons
I wanted to point out some of the pros and cons of this Casio MTG-G1000D-1A2JF and display them in a nice and easy to read format so you can see if this watch is right for you.
Casio MTG-G1000D-1A2JF Pros:
Oversized design
Atomic timekeeping
Solar powered movement
Sapphire crystal glass
Tough construction
Triple G Resist
Power saving features
200m water resistance rating
G-Shock MTG-G1000D-1A2JF Cons:
Due to the oversized design of the watch, it may not be so suitable for people with smaller wrists
Conclusion
Overall if you can afford it, the Casio G-Shock MTG-G1000D is one of the best G-Shock watches available on the market. Sure, it's one of the most expensive G-Shock watches available and you may not need many of the features available, but that doesn't take away from just how damn cool it is.