Invicta 3644 Speedway Men's Watch 3644 Review.
Hello, today I'm doing a Invicta 3644 review. This is a really popular model from Invicta that looks absolutely stunning. It's been featured in a lot of our best Invicta watch lists but I've been a little slow when it comes to getting a full review of it ready. Now it's finally time for us to take a look at the Invicta 3644 in a bit more detail.
(Click on any image to head straight to the product page for prices and specifications)
Anyway, I'll get on with my Invicta 3644 review below and you can find out the price on Amazon today, enjoy.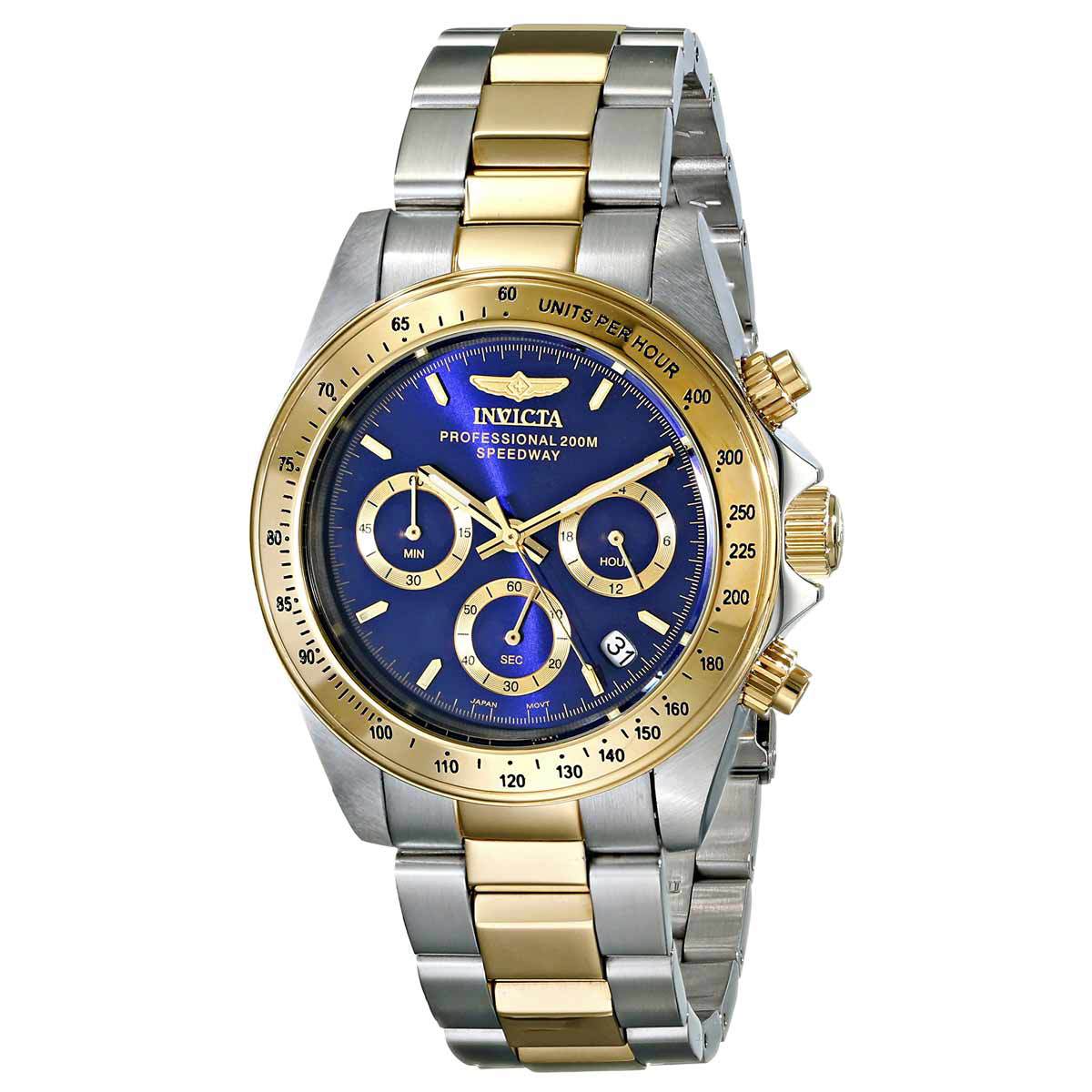 At the bottom of the article, I'll show you some of my recommended places to buy this watch from
My Initial Thoughts On This Watch
I'm someone who's always been rather fond of the Invicta watch range, whereas I know they're well known for their massive oversized watches, these smaller standard sized watches have been extremely popular. This model is part of their Speedway collection which includes many of the best selling watches that Invicta has created.
Also Read: Are Invicta watches good?
The Invicta 3644 offers brilliant value for money, it's a watch that looks a lot more expensive than it really is, I suspect the impressive two-tone finish with the deep blue dial goes quite the way towards achieving this. That being said, the watch is built to a very high standard still, and we'll look at the individual aspects of the watch below.
Dial
One of the most instantly recognisable aspects of this watch is this impressive deep blue dial that really draws you in. On the face of the dial with have this gold detailing for the chronograph sub dials, hour markers, and hands that give the watch that expensive feel. It has an easy to read setup and good spacing of the sub dials in my opinion. The hands and hour markers are both coated in lume to make the watch extra easy to read in dim lit conditions.
Movement
On the inside of the watch, we find a Japanese Hattori Caliber VD53 quartz movement. This is a reliable and accurate movement that requires very little in the way of maintenance.
Type of glass
Protecting the front of the watch we have a mineral crystal glass. This type of glass is specially hardened to be extra resistant to scratches and knocks. A key feature of mineral glass is how shatter resistant it is, so whilst it doesn't offer the highest level of scratch resistance available, you are much more protected from drops.
Size
Many people may be used to Invicta's oversized watches, but a lot of their most popular models are these standard men's sizes. This Invicta speedway has a casing diameter of 40mm which class it as a large men's standard, whilst the thickness is 13mm which is only slightly bigger than average. Overall this sits really nicely on the wrist and is ideal for most men.
Calendar
You'll find a small date display at the 4:30 position on the watch. It has a white background with white numbering that makes it stand out from the rest of the dial. I tend to like date displays that blend in a bit more but that's just a personal preference.
Watch strap and clasp
As you can see from the picture below, this model uses a pretty standard fold over clasp with safety catch. Not something I'm overly wowed by, but I'm one of those people that find these a little hard to operate (You'll often find me sporting a push release clasp). The strap itself is made of stainless steel and continues the two-tone PVD gold plated design. With a width of 20mm it's perfectly sized to fit in with the rest of the watch specifications.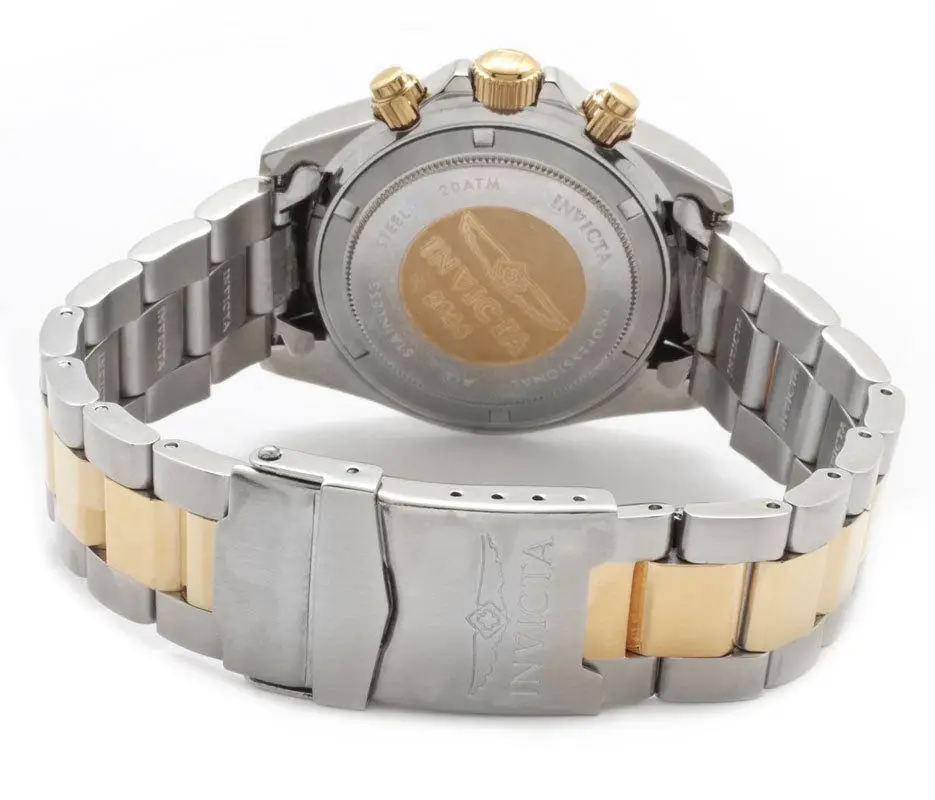 Water Resistance:
The water resistance rating is a impressive 200m also known as 20ATM. 200m water resistance makes it suitable for professional marine activity, serious surface water sports and skin diving. Considering the price I'd say this is very good value for money.
Features:
Brand: Invicta
Model: 3644
Dial Window Material: Mineral Glass
Clasp Type: Fold over style clasp with safety
Case Material: Stainless Steel
Case Diameter: 40mm
Case Thickness: 13mm
Band Material: Stainless steel
Band Width: 20mm
Calendar: Date display
Movement: Japanese quartz Movement
Water Resistance Rating: 200m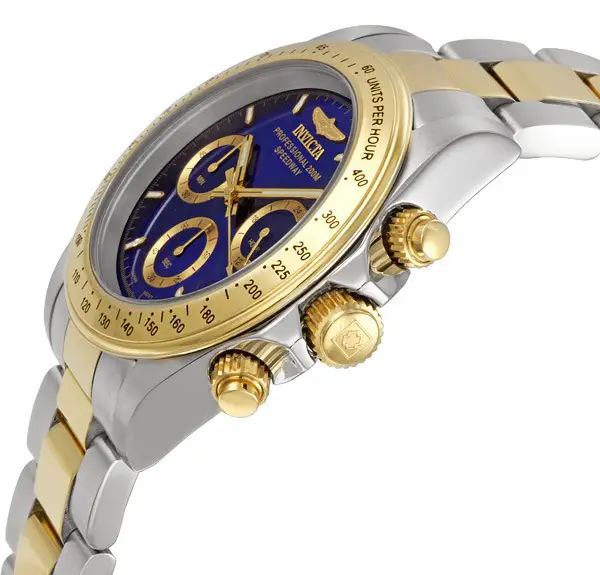 Conclusion
It's been nice to finally take a closer look at this rather beautiful two-toned watch from Invicta. Everything about it makes it feel like a much more expensive watch than it really is, and a great thing about it is that I don't think many people would guess it costs as little as it does. Overall a watch I'd rate quite highly, and I can see why it's been just as popular as it has been.
I Hope you found this Invicta 3644 review useful and enjoyable, comment below and let me know what you think of it.
Where to buy the Casio Edifice EQB-500D
I like to stick to listing retailers that I've actually had experience buying from in the past. Below I've listed some of the top places to buy this watch from, check all 3 for the best price.
Thanks for reading, find more of my watch reviews below.