Henry Jay HJ2001 Review

My rating: 8/10. A popular and affordable diving style timepiece

Hey everyone, today I'm taking a look at the popular Henry Jay HJ2001.This is a brand I've seen advertised a lot recently and on the face of it, looks like pretty good value for money. I wanted to take a closer in depth at this timepiece and see how good it really is.
I hope you enjoy today's Henry Jay HJ2001 review below.
Below is an image of the Henry Jay HJ2001 featuring a stainless steel two tone strap.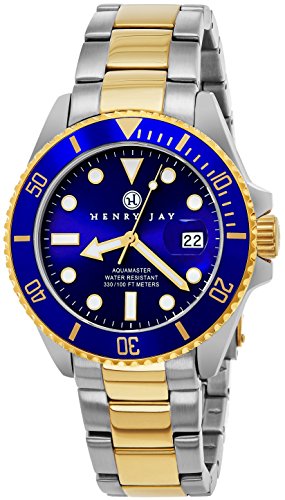 Check latest reviews, ratings and prices on Amazon
Henry Jay Technical specifications
I like to start things off with a quick look at some of the technical specifications with any watch that I review. This gives you the opportunity to see if you like this style of watch from the get-go. For example, some people wouldn't want to go for a very large watch.
Model Number: HJ2001
Crystal Material: Mineral crystal
Case Diameter: 40mm
Case Thickness: 13mm
Movement: Quartz
Water Resistance: 100m
Strap Material: Stainless steel
Henry Jay Dial and Casing Design

First thing you notice about the Henry Jay Aquamaster is how much the dial stands out on your wrist. The blue of the bezel and dial works beautifully we the PVD gold detailing and the two tone coloured strap.
The dial features bold hands and hour markers that are coated with lume for better visibility in dim lit conditions. There's also a useful date display located at the 3 o'clock position which can always come in handy.
The casing of this timepiece is made of stainless steel with a diameter of 40mm and a thickness of 13mm. A unidirectional ratcheting bezel sits on top with a gold tone finish and coin edged detailing.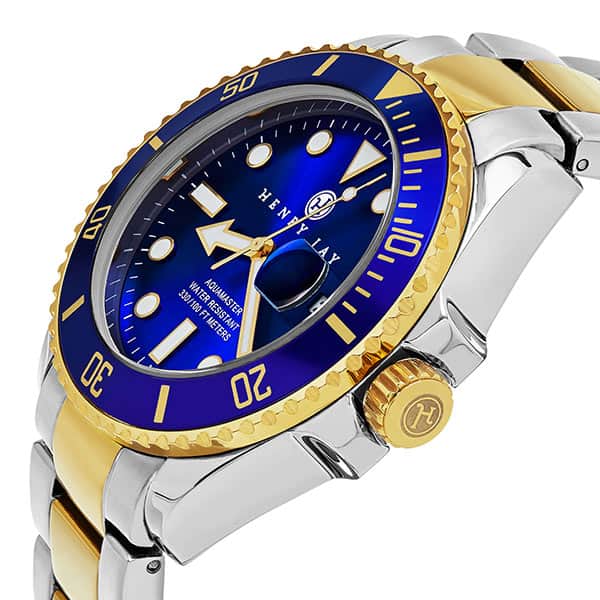 Strap & Clasp
The strap on this timepiece is made of stainless steel with a PVD gold plated two tone finish to it. It fastens with a deployment style clasp that happens to be one of my favourites.
The Henry Jay HJ2001 Movement
Powering this Henry Jay timepiece is a quartz movement. These are accurate and reliable movements that are often very affordable. It's basic but does the trick to be fair, and requires very little maintenance.
Henry Jay HJ2001 Crystal
Protecting the front of the watch is a mineral crystal glass lens. This is a specially hardened glass that offers you a good level of scratch and shatter resistance. Again, this is commonly found in many affordable watches.
Also Read: Best watches under £500
HJ2001 Water Resistance
The water resistance rating of this Henry Jay watch is 1000m, also known as 10 bar. As per Wikipedia, this is suitable for recreational surfing, swimming, snorkeling, sailing and water sports.
HJ2001 Pros & Cons
I wanted to point out some of the pros and cons of this Henry Jay watch and display them in a nice and easy to read format so you can see if this watch is right for you.
Henry Jay HJ2001 Pros
Large diving style design
Date display
luminous hands and hour markers
Quartz movement
100m water resistance rating
Henry Jay HJ2001 Cons:
None to mention, if you have any to add simply comment at the end
A Final Word On The Henry Jay HJ2001

Overall I have to admit I feel this Henry Jay watch offers some pretty good value for money. It has that diving style design that I know a lot of people go for and the Blue and gold finish works very well in my opinion.
Having taken a look at the quality, specifications, and pricing of this watch, I've decided to give it a 8/10.
Where To Buy The Henry Jay HJ2001

I like to stick to listing retailers that I've actually had experience buying from in the past. Below I've listed some of the top places to buy this watch from, check all for the best price.
Buy on Amazon

Thanks For Reading
I hope you enjoyed having a read through of this Henry Jay HJ2001 review. As always let us know what you thought in the comments section below.
Why not check out our top 100 best watches under £1000 next.
 What to read next: