Casio A164WA-1VES Watch Review Summary
My rating: 8/10. Retro style watch. Affordable digital timepiece.
Hello, today I'm doing a Casio A164WA-1VES review. Oh yes, it's another popular digital watch with that highly desirable retro style to it. As I mentioned in my previous posts, I'm slowly making my way through all of the top watches available, so this digital Casio is next on my list.
I hope you enjoy this Casio A164WA-1VES review below.
You may also like my: 100 Best Watches Under £500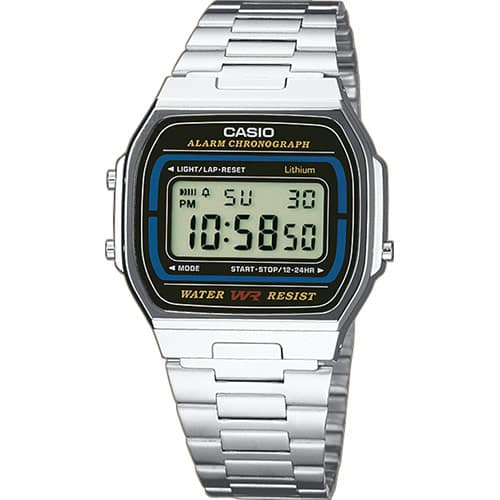 Latest reviews, ratings and prices: Casio A164WA-1VES watch
At the bottom of this article, you can find a list of my recommended retailers to purchase this watch from
Casio A164WA-1VES Watch Review
A164WA-1VES Dial & Case Design
This classic looking watch from Casio is made from a chrome plated strong resin and stainless steel. The watch features this neat little digital LCD display with a black surround. The LCD screen is easy to read and reminisscent of Casio's popular retro watches with its rectangular casing design. The dial also featured a back light for easier reading at night which can often come in useful.
A164WA-1VES Type Of Crystal
The acrylic window lens is a nice choice in my opinion, when you consider we're going for a retro style, the acrylic just makes sense. It's not as strong as a mineral crystall glass but it does still have its own benefits. Scratches on a acrylic lens can often easily be buffed out with the right technique, it's also highly shatter resistant.
A164WA-1VES Watch Movement
At the heart of this Casio timepiece is a popular Japanese quartz movement that's known for being both reliable and accurate. It's found in many of these affordable Casio timepieces.
A164WA-1VES Watch Size
Like many of the other retro Casio watches you see available this model also features a smaller watch sizing. The diameter measures 35mm in diameter with a thickness of 10mm. This makes it a small watch by today's standards, but perfect for those who want the classic retro style.
Casio A164WA-1VES Strap
The strap of the watch is made of stainless steel and fastens with a hook and clasp catch. This style of strap is really easy to adjust the size of as you can just slide part of the catch down the strap to your preferred position. The strap has a width of 19mm nicely in keeping with the rest of the design.
Casio A164WA-1VESExtra Features

The watch features all the normal extras you'd expect to find on these retro digital watches. There's a stopwatch function, alarm, date display, and a back light.
A164WA-1VES Water Resistance Rating
This model actually has a pretty decent 50m water resistance rating. 50m or 5 bar makes this watch suitable for swimming, white water rafting, non-snorkeling water related work, and fishing.
Casio A164WA-1VES Watch Specifications
Band Stainless steel strap, standard length, 19mm width, hook and clasp.
Case Chrome plated resin casing, sizing diameter: 35mm and thickness: 10mm.
Dial Digital display. Acrylic window lens.
Movement Japanese quartz movement.
Water Resistant A water resistance of up to 50m / 5 bar.
Casio A164WA-1VES Watch Advantages
Retro digital Casio watch
Backlight digital display
Unisex watch
Acrylic glass can be buffed out to remove most scratches
Alarm and stopwatch functions
50m water resistance rating
Casio A164WA-1VES Watch Disadvantages 
May be too small for some people considering the 35mm casing diameter
My Final Thoughts On This Casio A164WA-1VES Review:
Overall I'm really pleased with this watch. It keeps to that retro Casio design that I know a lot of people are after at the moment. Features like the alarm and stop watch as well as the back light are likely to come in handy often. I also like the fact you can easily adjust the size of the strap. If you prefer watches with metal straps and wanted a retro watch then this may be perfect for you.
After looking into the watch design, quality, features, and pricing this watch received an 8/10 from us at The Watch Blog.
You may also like my Best Watches For Teens
Where to buy the A164WA-1VES

I like to stick to listing retailers that I've actually had experience buying from in the past. Below I've listed some of the top places to buy this watch from, check all for the best price. Variations of this model include: A164WA-1VES
Buy now at Amazon
Buy at Watch Shop

Hope you enjoyed this Casio A164WA-1VES review. Find more watch reviews below.