G-Shock GA-110MB-1AER Watch Review Summary
My rating: 8/10. Good watch. Value for money, multifunction sports watch.
Hello, today I'm doing a G-Shock GA-110MB-1AER review. This is another one of G-Shock's popular affordable models that a lot of people seem to be really enjoying. As we've come to expect from many of the G-Shock watches this timepiece has an oversized durable design that many people love to go for, let's take a closer look it below.
I hope you enjoy this G-Shock GA-110MB-1AER review below.
You may also like my 100 best watches under £500 for men.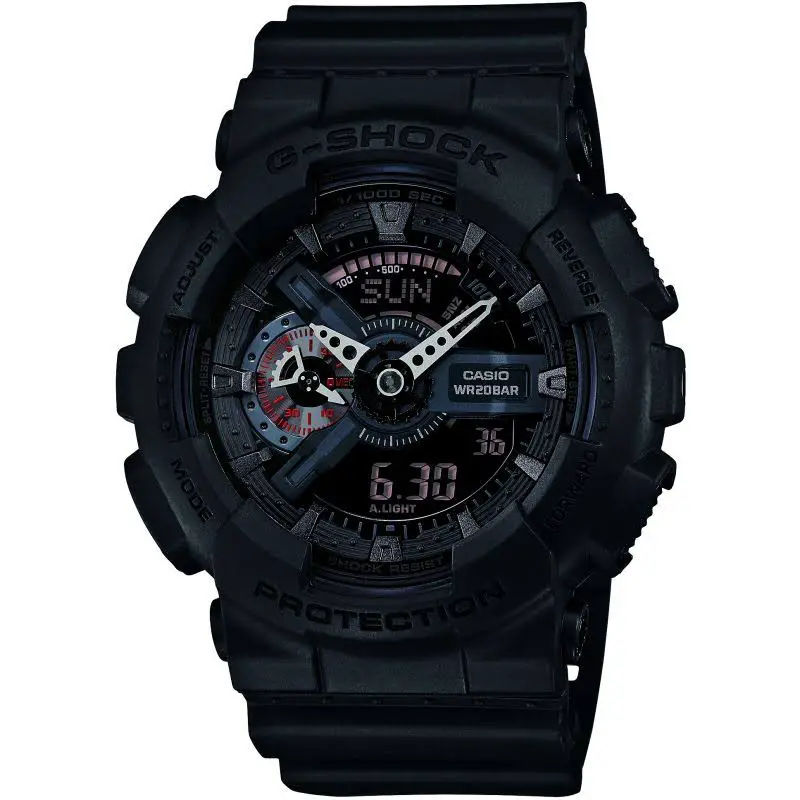 Latest reviews, ratings and prices: G-Shock GA-110MB-1AER watch
At the bottom of this article, you can find a list of my recommended retailers to purchase this watch from
Watch Review
G-Shock are one of these brands I always enjoy featuring on the site, I believe they offer some very good value for money to people and that's something that's important to me. This model has that typical oversized style that we're used to with G-Shock watches and comes with many useful extras that I'll detail more below.
Protecting the dial of the watch we have a mineral crystal glass. This style of glass has been specially hardened to offer extra resistance to scratches and knocks. A key reason for going for mineral glass rather than sapphire glass is the added shatter resistance you get from mineral glass. For a watch that's built to withstand a drop, this is clearly the right choice.
The watch has this satisfying durable feel to it that's achieved with the thick resin that surrounds the stainless steel casing of the watch. This is a key feature of many of the G-Shock watches and a major part of the shock resistant design.
As I mentioned earlier on, the watch is very large with a casing diameter of 51mm and a thickness of 17mm. As you can see this is a fairly chunky large watch, that many people are going to love, but it's also worth noting that this might not be so suitable for people with smaller wrists.
The watch includes a huge selection of features that I'll list below:
Illuminator: The watch dial or display illuminates at the touch of a button, helping you to see everything, even in absolute darkness.
World time function: Displays the current time in major cities and specific areas around the world.
2 stopwatch functions – 1/100 sec. – 1.000 hours: Time lapsed, interval time and end time are measured to the nearest one-hundredth of a second. This model has two independent stopwatches, each of it can time up to 1.000 hours.
Alarms: The daily alarm reminds you about recurring events with an acoustic signal at the time you have set.
Automatic calendar: Once set, the automatic calendar always displays the correct date.
Powering the watch we have a Japanese quartz movement, these are accurate and reliable so they're perfect for an affordable watch like this.
As you'd expect from a chunky watch like this, it has a fairly bulky strap with a width of 26mm. This is made of a similar resin to the casing surround and blends in very nicely. The strap fastens with a typical buckle style clasp.
The watch has a 200m or 20 bar water resistance rating, this is suitable for professional marine activity, serious surface water sports and skin diving.
Watch Specifications
Band Resin strap, standard length, 26mm width, standard buckle style clasp.
Case Stainless steel casing with resin surround, sizing diameter: 51mm and thickness: 17mm.
Dial Digital display. The window lens is made of mineral glass, this is specially hardened to be resistant to scratches and knocks.
Movement Accurate Japanese Quartz movement.
Water Resistant A water resistance of up to 200m / 20 bar.
Watch Advantages
G-Shock watches are known for the excellent durability & toughness
Built for shock resistance
Multi-function watch with stopwatch, alarms, countdown timer, and world time display and more
Mineral glass offers a good level of scratch & shatter resistance
Popular oversized design
200m water resistance rating
Watch Disadvantages 
Being an oversized watch at 51mm this may not be suitable for people with smaller wrists
Many people have said the illuminator isn't that bright so keep this in mind
My Final Thoughts On This G-Shock GA-110MB-1AER Review:
The G-Shock GA-110MB-1AER is quite a typical G-Shock watch, it has that oversized design, useful functions, and just feels you with confidence, you know it isn't going to just break down on you. They're perfectly suited for people with a more active and outdoors lifestyle (fair to say that's not be) and have always offered pretty fair value for money.
After looking into the watch design, quality, features, and pricing this watch received an 8/10 from us at The Watch Blog.
You may also like my 100 best automatic watches under £1000
Where to buy the GA-110MB-1AER
I like to stick to listing retailers that I've actually had experience buying from in the past. Below I've listed some of the top places to buy this watch from, check all 3 for the best price. Variations of this model include: GA-110MB-1AER
Buy now at Amazon
Buy at Watch Shop
Buy at The Watch Hut
Hope you enjoyed this G-Shock GA-110MB-1AER review. Find more watch reviews below.