Bulova Marine Star Men's Quartz Watch – 98B104 Review
Hey everyone, today I'm doing a review of this stunning Bulova watch. Keen readers here will be well aware that Bulova are one of my favourite affordable brands.
This is actually
available on Amazon at the moment
 and is well worth checking out. Anyway, for now I'll get into the review.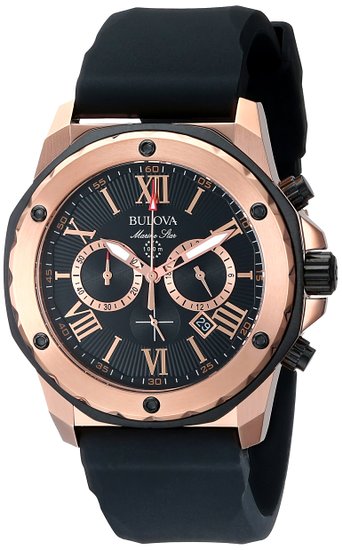 My Thoughts On This Watch
If you're looking for a show stopper I think you've found what you're looking for. With a 44mm case that's 12mm thick it's a large chunky designed stunning watch. The display is a mineral crystal which is of a medium standard when it comes to scratch protection, it will deal with most scuffs but not to the sapphire standard.
I love the display. The large numerals look great and I like how they've left out the surround for the third dial on the chronograph, something you don't often see. I especially like the little details like the red tip on the seconds marker. A little dash of colour that's worth appreciating.
The whole watch has this heavy duty look and feel to it. The rubber strap instantly means you're going to get away with more in terms of sports and will be a lot more comfortable on the wrist.
I also like to point out that the hands have a luminous effect so you'll be able to see the watch a lot better in low light. Quite a few watches these days don't have this feature and it can be a pain when you're out in the evening and suddenly your watch becomes useless and you're back to using your phone.
Features:
Brand: Bulova
Model: 98B104
Dial Window Material: Mineral
Clasp Type: Buckle
Case Material: Stainless Steel
Case Diameter: 44mm
Case Thickness: 12mm
Band Material: Rubber
Band Width: 24mm
Calendar: Date
Movement: Quartz
Water Resistance: 10 Bar
Conclusion
Well, I love the Bulova brand, and I love gold watches so it's pretty much got me here. Personally, I'm not normally a fan of rubber straps (I'm not exactly sporty let's leave it there). But I do feel it was necessary to go with the design and feel of the watch so it works well. As always when reviewing watches it's not just about what I like, I have to consider what everyone else would think.
Hope you found this review useful and enjoyable. You can buy this watch on Amazon.