Bulova 98G256 Watch Review Summary
My rating: 8.5/10. An extremely accurate Precisionist timepiece from Bulova

Hello, today I'm doing a Bulova 98G256 review. This is a very popular timepiece from the Bulova Precisionist collection. The Precisionist collection use extremely accurate 262 kHz quartz movements for unparalleled timekeeping. You can read my full Bulova Precisionist review here.
I hope you enjoy this Bulova 98G256 review below.
You may also like my: 100 Best Watches Under £100

Latest reviews, ratings and prices: Bulova 98G256 watch
At the bottom of this article, you can find a list of my recommended retailers to purchase this watch from
Bulova 98G256 Watch Review
Dial & Case Design
Bulova's Precisionist collection are known for their often oversized designs, just like the model we're featuring today. It has this large 48mm casing diameter with a thickness of 14mm which makes the watch stand out nicely on your wrist. This casing is made of stainless steel with rose gold PVD plated detailings for the pushers, crown and nuts on the front of the timepiece.
The dial features a textured black carbon fibre background with rose gold coloured hands and hour markers that are coated with lume for better visibility in dim lit conditions. There are four chronograph subdials on display as well as a small date indicator between the 4 and 5 o'clock hour markers. The chronograph on this impressive Bulova watch can even measure to within 1/1000th of a second.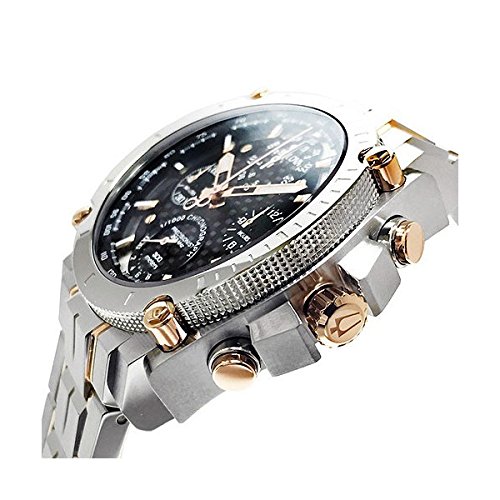 Type Of Crystal
Protecting the of the watch is a high-quality sapphire crystal glass lens. Sapphire glass is often found in high end watches because it gives you some of the best scratch resistance available with a Mohs hardness rating of 9. You'd effectively need a diamond to scratch this sapphire glass.
Watch Movement
The key feature of Bulova's Precisionist series is its movement. These watches make use of high accuracy quartz movements that are powered with a unique three-prong crystal to give you a 262 kHz vibrational frequency, this is eight times greater than a standard quartz watch.
This high-performance quartz movement with a 262 kHz frequency gives the watch incredible accuracy to within seconds per year and also the benefit of a sweeping second hand which is often desired in watches. Another benefit is the fact that the chronograph can measure down to 1/1000th of a second which is hard to beat.
Strap
The strap of the Bulova 98G256 is made of stainless steel with a two tone design with the use of PVD rose gold plated detailings. This strap fastens with a secure double-press fold over clasp with a safety lock catch. The width of this strap is approximately 22mm which is in-keeping with the rest of the casing design.
Water Resistance Rating
This watch has a 300m water resistance rating. A 300m or 30 bar rating makes this watch suitable for professional marine activity, serious surface water sports and skin diving.
Watch Specifications
Band: Stainless steel strap, standard length, 24mm width, fold over style clasp.
Case: Stainless steel casing, sizing diameter: 44mm and thickness: 14mm.
Dial: Analogue chronograph display. Sapphire crystal glass window lens.
Movement: Precisionist Quartz movement.
Water Resistant: A water resistance of up to 300m / 30 bar.
Watch Advantages
Incredible accuracy
Popular oversized design
300m water resistance rating
High quality lume coating on the hands
Chronograph that can measure to within 1/1000th of a second
Sapphire crystal glass for excellent scratch protection
Watch Disadvantages 
Due to the oversized design of this watch, the timepiece may not be suitable for people with smaller wrists
My Final Thoughts On This Bulova Precisionist 98G256 Review:
Bulova's Precisionist series features some of my favourite oversized men's watches. I love the chunky design and the way the timepieces stand out on your wrist. Plus of course, they're very high quality timepieces with incredible precision quartz movements, sapphire crystal glass, and this model even has a 300m water resistance rating which is a massive benefit to some people.
After looking into the watch design, quality, features, and pricing this watch received an 8.5/10 from us at The Watch Blog.
You may also like my Best GMT watches
Where to buy the 98G256

I like to stick to listing retailers that I've actually had experience buying from in the past. Below I've listed some of the top places to buy this watch from, check all for the best price. Variations of this watch include: 98G256

Buy at Amazon
Buy at Watch Shop

Hope you enjoyed this Bulova 98G256 review. For more on accurate watches, I'd recommend our article on atomic timekeeping watches.