Bulova 98G228 Review

My rating: 8.5/10. A stunning oversized watch from Bulova's Precisionist collection.

Hello, today I'm taking a look at the Bulova 98G228. This Bulova timepiece features a popular oversized design and is part of the Precisionist collection. Bulova's Precisionist watches feature high quality precision quartz movements for excellent accuracy and reliability. I'll be taking a look at the 98G228 in detail below.
I hope you enjoy today's Bulova 98G228 review.
You can check out more of the top Bulova Precisionist watches here.
Below is an image of the Bulova 98G228 featuring a stainless steel two tone strap.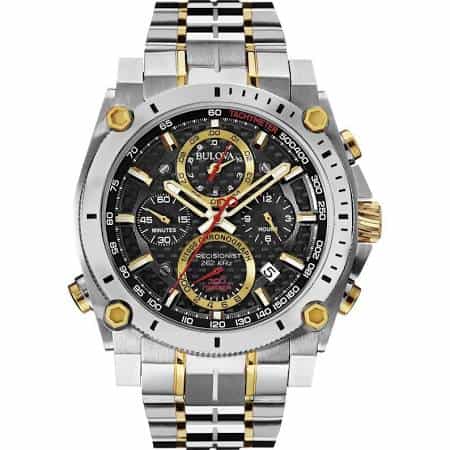 Check latest reviews, ratings and prices on Amazon or Watch Shop
Bulova 98G228 Technical specifications
To get things started I wanted to showcase some of the primary specifications people check on a watch. This gives you the opportunity to see if you like this style of watch from the get-go. For example, some people wouldn't want to go for a very large watch.
Model Number: 98G228
Crystal Material: Sapphire crystal
Case Diameter: 44mm
Case Thickness: 18mm
Movement: Japanese Precision quartz
Water Resistance: 300m / 30 bar
Strap Material: Stainless steel
Bulova 98G228 Dial and Casing Design

Bulova's Precisionist watches are quite well known for their oversized busy dial designs and this model is no exception. On first glance, it can be a little overwhelming but that's really nothing to worry about. The hands and hour markers have a gold tone finish to them with a small coating of lume for better visibility in dim lit conditions.
The background of the dial has quite a sporty looking carbon fibre finish to it which works really well with all the gold coloured detailing. The 4 chronograph sub-dials can be used to measure time to within 1/1000th of a second, an impressive feature. There's also a useful date indicator tucked between the 4 and 5 o'clock hour markers.
The casing of the Bulova 98G229 is made of stainless steel with a two-tone finish to it. It has a large diameter of 44mm with a thickness of 18mm making it quite a chunky watch. The crown on this model is found at the 3 o'clock position, note that it can be screwed down to prevent accidentally being pulled out whilst under water.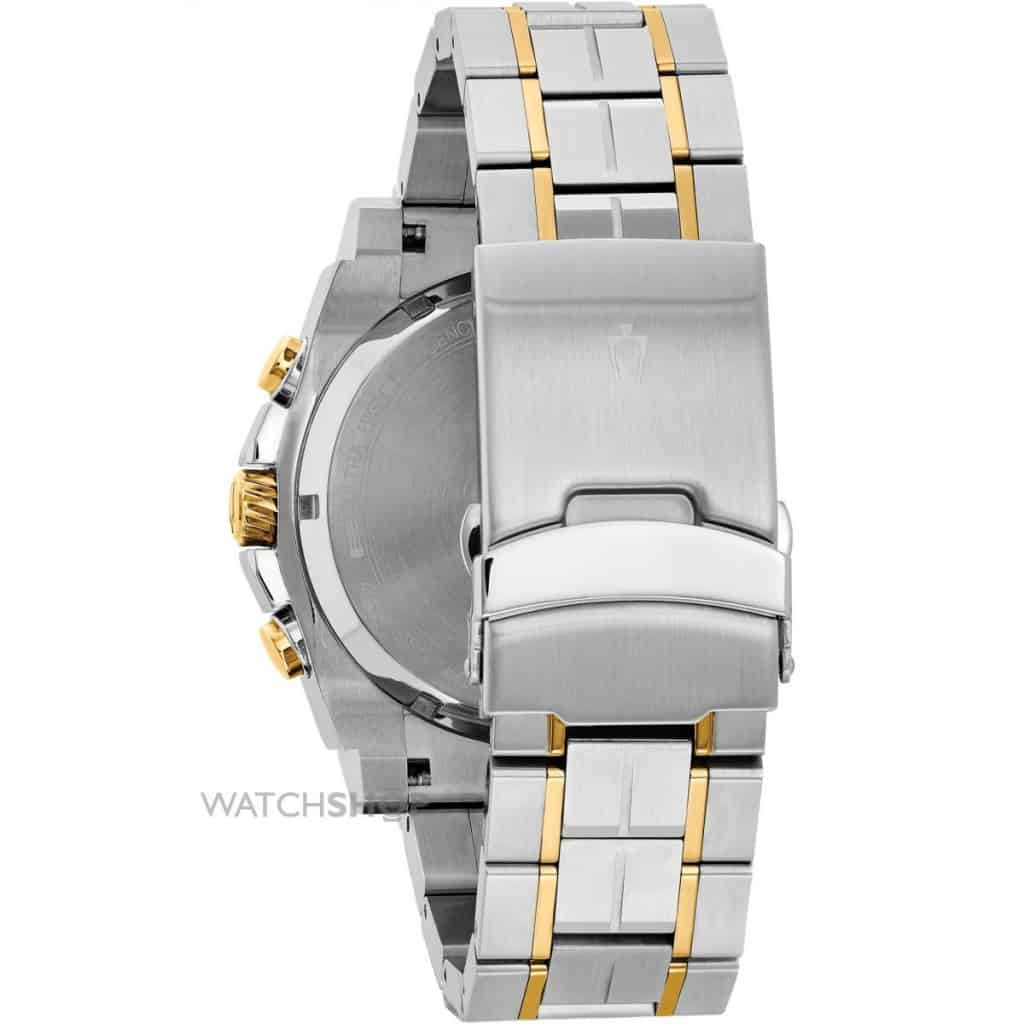 Strap & Clasp
The strap of the Bulova 98G228 is made of stainless steel and continues on with the two-tone design. It fastens with a push release fold over clasp with an added safety catch for a secure hold.
The Bulova 98G228 Movement
The movement at the heart of this timepiece is one of Bulova's best selling features. It makes use of a unique three-prong crystal to provide you with a 262 kHz vibrational frequency that is up to eight times greater than a standard quartz movement.
This 262 kHz movement provides you with unparalleled accuracy and a continuously sweeping second hand that beats at 16 ticks per second.
With an accuracy of 10 seconds per year, this super quartz movement has proved a huge hit with watch fans. A movement of this class in what can be considered an affordable timepiece is rarely seen.
Bulova 98G228 Crystal
Protecting the front of this Bulova Precisionist watch is a high quality sapphire crystal glass lens. The sapphire glass lens has a Mohs hardness rating of 9 meaning you're provided with a very high level of scratch and knock resistance. Bulova features sapphire crystal glass lenses on many of their high end watches.
Also Read: Best Minimalist Watches
98G228 Water Resistance 
The water resistance rating of the Bulova 98G228 is 300m, also known as 30 bar. As per Wikipedia, this is suitable for professional marine activity, serious surface water sports and skin diving. Note that the crown does screw down on this watch for added protection.
Bulova 98G228 Pros & Cons
I wanted to point out some of the pros and cons of this Bulova 98G228 and display them in a nice and easy to read format so you can see if this watch is right for you.
Bulova 98G228 Pros:
Popular oversized casing design
Impressive high accuracy movement
Continous sweeping second hand at 16 ticks per second
Sapphire crystal glass
300m water resistance rating
Bulova 98G228 Cons:
Due to the oversized chunky design, this Bulova watch may not be suitable for people with smaller wrists.
A Final Word On The Bulova 98G228

Bulova are one of my favourite affordable watch brands currently on the market. I love their collections and have to say their Precisionist watches are some of the most impressive quartz timepieces I've seen in a while.
Considering the movement, sapphire crystal glass, and the 300m water resistance rating I'd say you're getting pretty good value for money with the Bulova 98G228.
Having taken a look at the quality, specifications, and pricing of this watch, I've decided to give it a 8.5/10.
Where To Buy The Bulova 98G228

I like to stick to listing retailers that I've actually had experience buying from in the past. Below I've listed some of the top places to buy this watch from, check all for the best price.
Buy on Amazon

Buy on Watch Shop

Thanks For Reading
I hope you enjoyed having a read through of this Bulova 98G229 review. As always let us know what you thought in the comments section below.
Why not check out our top 100 best watches under £500 next.