In today's article we're doing a Smael watches review, we'll be taking a look at the brand, if their watches are any good, answering some FAQs and featuring some of their best watches.
Let's just jump straight into it.
Are Smael Watches Junk?
Many people see a watch at under £20 and instantly jump to the conclusion they're going to be junk, and to be honest, most of the time I wouldn't blame you for thinking that way. It is fair to say that you often get what you pay for in the watch industry, especially when it comes to these highly affordable Chinese made watches.
Over the last 5 years these cheap Chinese watches have seen some improvements in quality, but you can still expect the odd defect here and there, you're not really paying for perfection in this price range.
With all that said, if you're after a cheap watch that you don't want to have to worry about breaking etc, then an affordable timepiece from Smael watches may be the way to go.
Who makes Smael Watches?
Smael watches are a generic mass produced brand from China, you'll find them featured all over the place as they're fairly easy to source. If you don't want to wait 30 days for delivery then buying one from Amazon off of a store that holds local stock is really the way to go.
Do Smael Watches Offer Value For Money?
This really comes down to what you count as value for money. At under £20, Smael watches are cheap and you shouldn't be expecting all the bells and whistles in this price range.
If you're simply after what you'd consider to be a nice looking watch, that tells the time well and runs on a basic quartz movement, then yes, you have your value for money.
Where are Smael Watches made?
Smael watches are made in China. They're a mass produced watch brand that are available to import from China, this means mean different retailers can have this brand available for sale in your own country.
Best Smael Military Watches
Military watches by Smael have proven to be very popular, for this reason I figured I would put a section together where we feature this niche.
Smael Military Outdoor Watch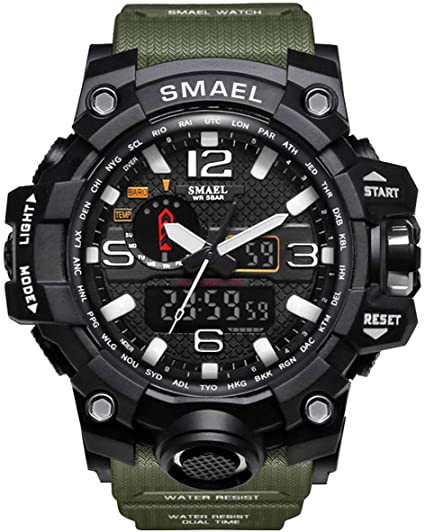 Smael Military Watch on Amazon 
First up is this durable dual display military from. It's built with a reliable Japanese made quartz movement and features an alarm, chronograph, backlight, stopwatch and auto calendar.
This fashion military style watch comes with a 50m water resistance rating. This is suitable for most requirements to be honest. If you're looking for something with a much higher water resistance rating, head over to our list of the best diving watches.
2. Smael Sports Military Watch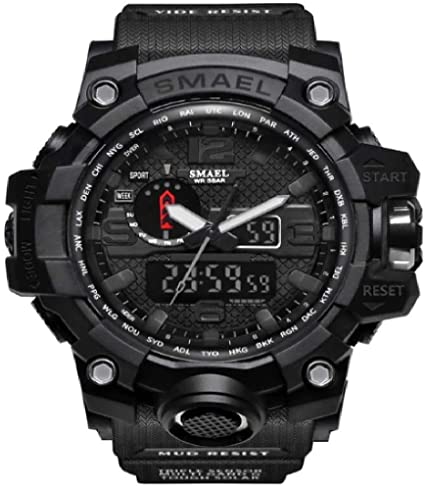 Smael Military Watch on Amazon
Here we have another multi-functional military style quartz watch by Smael. Features of this watch include dual timezone display, calendar, day and date, alarm, LED display, back light, and a stop watch.
Just like the previous Smael military watch, this model also comes with a 50m water resistance rating. Note that due to the thick protective casings many of these Smael watches have an oversized design, this model has a 51mm diameter which may not be suitable for people with smaller wrists.
3. Smael Military Hunting Watch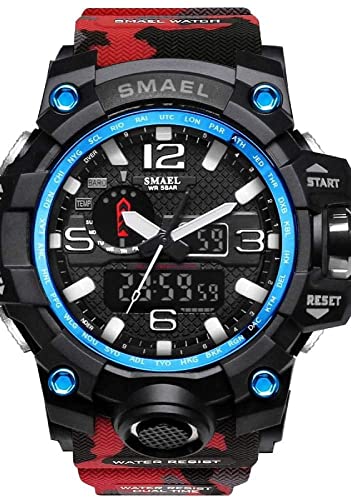 Smael Military Hunting Watch on Amazon
A little something slightly different from Smael watches is this dual display digital hunting watch. It runs off of a quartz movement that's reliable and accurate. One of the key features of this watch is the oversized 3D dial and the comfortable silicone strap.
If you love large watches, then this 52mm diameter, 16mm thick timepiece could be perfect for you as it will definitely stand out on your write. Just like the previous models, this Smael watch also has a 50m water resistance rating.
4. Smael Dual Display Fashion Army Watch
Smael Dual Display Watch on Amazon
If you're after a bold, easy to read design then the oversized hands on this model might prove handy. This is a fashion outdoor military style army watch available in a few colour different variations – all army based of course. Features include a 24 hour indicator, dual digital display, chronograph, alarm and date display.
This is an oversized men's watch with a 50mm diameter, this is a very big watch so do keep that in mind before buying as it may not be to everyone's taste. The water resistance rating matches up to the previous models featured so far with a rating of 50m.
5. Smael Digital Dual Display Military Hunting Watch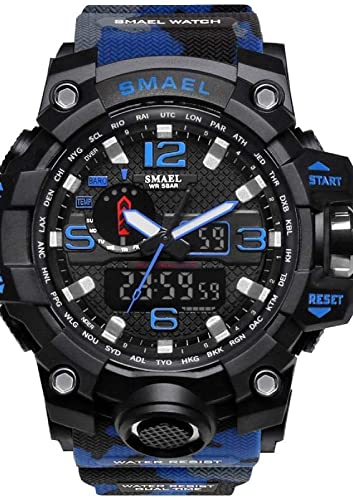 Smael Dual Display Watch on Amazon
Last up in today's look at the best Smael watches is this dual display military hunting watch with an oversized protective casing. It's another variation available of the previous two casing styles.
The watch has a large 52mm casing diameter with a thickness of approximately 16mm so this might not be suitable if you have smaller wrists as it's going to stand out a lot.
With a 50m water resistance rating it's fine the the day to day requirements of most people. Other features of this Smael timepiece include the dual time display, stopwatch function, and date display.
Conclusion
As always, thanks for taking the time to read through today's Smael watches review. What do you think of this brand? Any positive or negative feedback, we'd love to hear it all in the comments section below.