Review Michael Kors MK8077 Men's Chronograph Watch.
Hello today I'm doing a Michael Kors MK8077 watch review. With Michael Kors becoming a growing force in the world of watches I thought it was about time I took a look at one of their most popular men's watches. Although officially classed as a men's watch, this can be suitable for women who are after that oversized boyfriend style design, note it's a 45mm casing diameter so it's a large watch, even for men.
Editor rating: 8.5/10 Continue reading to find out why.
You may also be interested in my top 21 men's watches under £200.
(Click on any image to head straight to the product page for prices and specifications)
Anyway I'll get on with my Michael Kors MK8077 review below, you can click here for the latest reviews, ratings and PRICES on Amazon, enjoy.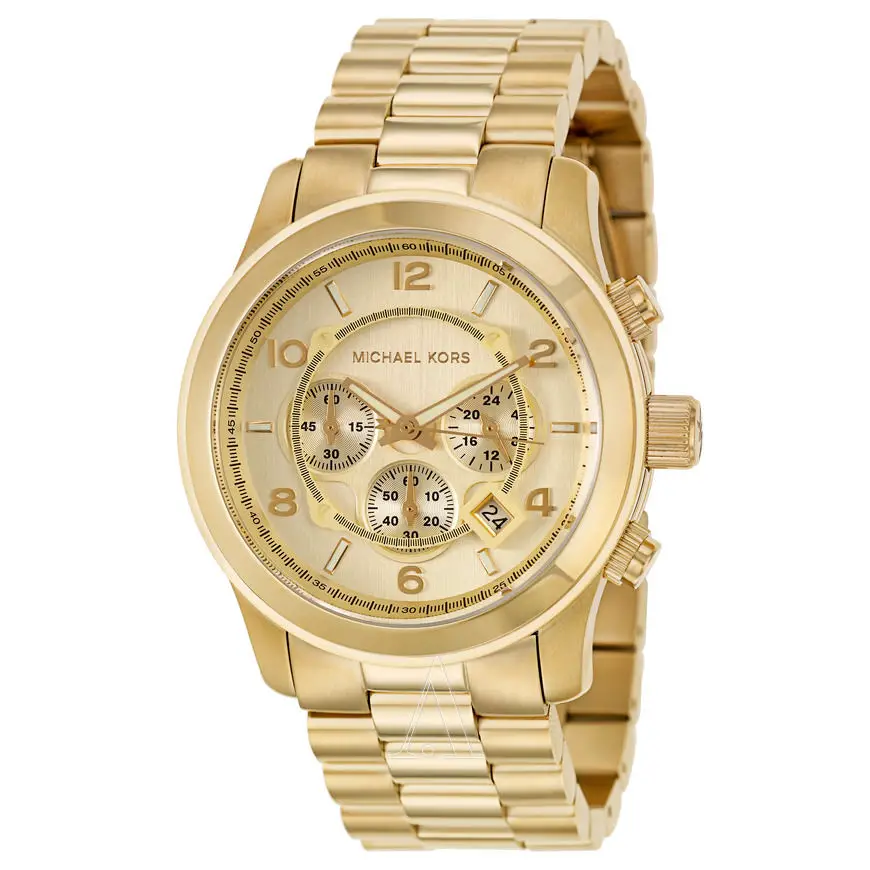 My Initial Thoughts On This Watch
Now this is definitely an attention grabbing watch isn't it? It's big it's bold and it has that expensive look to it. Note that being a larger watch made of stainless steel it will feel quite weighty, some people like that, some don't so just keep it in mind when making your mind up. Michael Kors really do craft some stunning designer watches and having looked at this, it's clear to see why they've become so popular.
We know the design of the watch is good, now it's time to delve into the specifications and see what this watch has to bring to the table.
Type of glass
You'll often find that most of the watches from Michael Kors, like other designer watches in this price range, feature a specially hardened mineral glass. This glass is fairly resistant to scratches and scuffs, and if you do manage to mark it you can often get them buffed out quite easily. The next step up would have been a sapphire glass but this costs a fair bit more than mineral glass which is why you don't often see it in this price range.
Size
I mentioned earlier that the MK8077 is quite weighty, it's case diameter is 45mm which is considered large for a man's watch. The popular size you see among men's watches at the moment is 42mm to give you some indication of what it will be like. The thickness of the case is 15mm which is classed as extra large. It gives the watch this heavy luxury feel to it. Women can wear the watch but I suggest you get a tape measure and put it up against your wrist to see how large the watch is going to be a 45mm case for women is considered very large.
Calendar
This Michael Kors watch features a standard date display. I think they could have done without it to be fair, the dial would have looked nicer in my opinion (I'm just not a fan of the offset date displays). It's at the half 4 position on the watch, tucked in there with a bold surround.
Watch strap and clasp
This is actually one of my preferred style of watch strap, the double push button release is a very nice touch and is far easier to operate than a standard fold over catch. The strap is made of stainless steel with a PVD gold colour plating like the case. It's 24mm which is a little bigger than average but pairs up nicely with the rest of the watch sizing.
Features:
Brand: Michael Kors
Model: MK8077
Dial Window Material: Mineral
Clasp Type: Fold Over Deployment Clasp
Strap Material: Stainless Steel
Case Diameter: 45mm
Case Thickness: 15mm
Case Material: Stainless Steel
Calendar: Standard Date Display
Movement: Precision Quartz Movement
Water Pressure Resistance: 10 Bar
Conclusion
Thanks for taking the time to read my Michael Kors MK8077 review. I think this watch could make the perfect gift considering it's price and modern style that is extremely popular at the moment. It's one of Michael Kors' most popular men's watches and for good reason, it's a well made luxury feeling watch but for a modest affordable price. Taking all this in to account I hope you can see why I decided to give this watch an 8.5/10.
If you're looking for something a little different make sure you check out my top 100 men's watches under £500 sometime.
Hope you found this Michael Kors MK8077 review useful and enjoyable, comment below and let me know what you think of it. Click here for the latest reviews, ratings and PRICES on Amazon.