Hello, everyone, I have a very interesting brand to introduce you to that will be launching on Kickstarter in November.
K. Viollet have gone for an intriguing concept of using two different colour straps on a watch. It's something I haven't seen done before, and I have to say the idea looks pretty compelling. They've already gained a large following online so it looks like this could be an interesting one on Kickstarter.
For now, I'll let you have a read of their article introducing the brand, and I'll let you know my thoughts at the end.
Introducing K. Viollet
Two young, British designers, Kingsleigh Viollet and Lee Owen have officially launched an exciting and different brand of high-quality watches. Their mission: to make your life more colourful by being the first watch brand to create watches with two different coloured straps but, in doing so, make them as affordable and luxurious as it is possible to ensure that they are proud of what they are designing.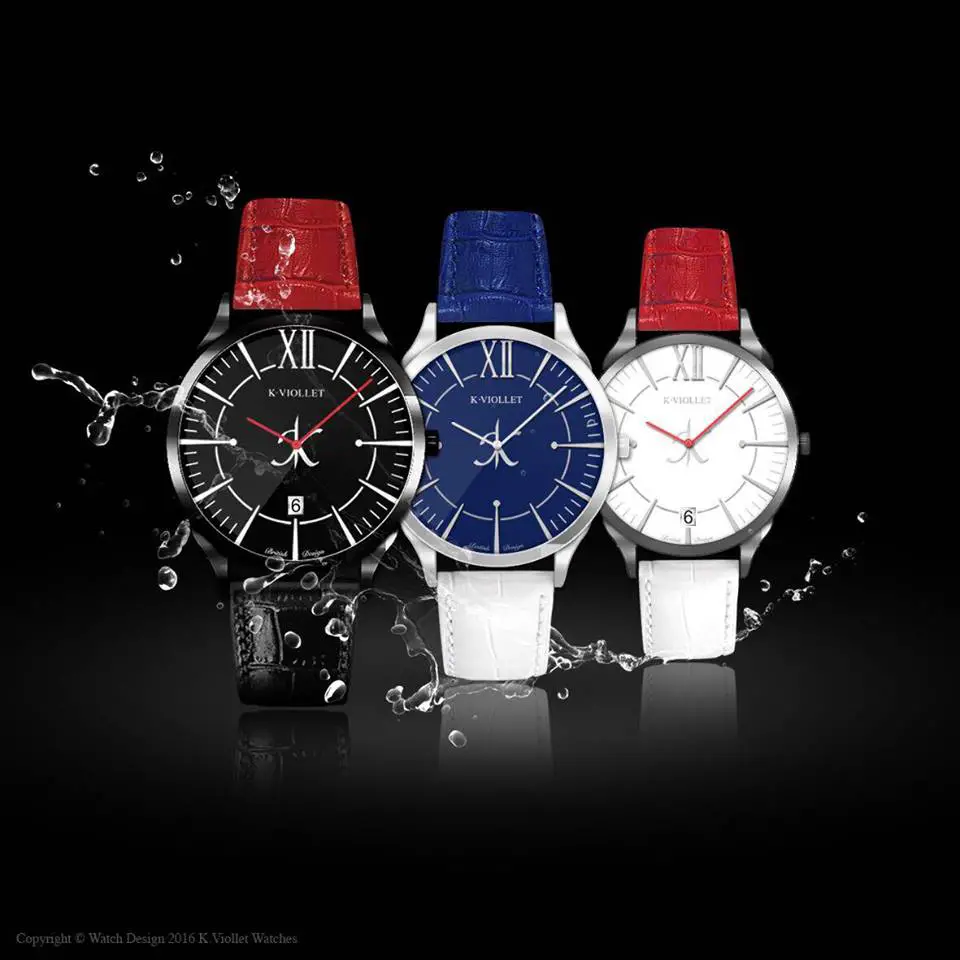 Kingsleigh, a recent law graduate who has been repairing his own watches for several years now, thought of the idea last year when changing the straps of a watch he owned to freshen it up a little. When doing so, he was hesitating between having them in brown or black leather so he put both straps either side of the watch face to see which he preferred. And that's when the idea was born! A different concept: #onewatchtwiceascolourful!
Since conjuring up the idea, and during the months to follow, he designed the brand by initially sketching out different designs and, later, working hard on finding the perfect colour combinations. However, the idea and sketches needed to, then, be brought to life in order to proceed to the next step. This is when Kingsleigh's friend, Lee, came into the picture, a computer designer from Birmingham. During two months, the duo worked together tirelessly to finalise designs, find and meet watch manufacturers and plan their venture together strategically.
In July 2016, they received a first set of samples but, although the quality of the production and their relationship with the manufacturers was good, it wasn't good enough so they spent several weeks finding the perfect supplier and finalising a watch brand with the best quality components, such as Swiss movement, sapphire crystal, stainless steel 316L and calf leather or stainless steel straps to ensure elegance, luxury and durability.
Their final set of samples have finally been produced by a different manufacturer whom have, not only, formed a great relationship with the duo but, also, come to love their concept. The K. Viollet brand are definitely bringing a different concept to the watch industry and a brand of watches which looks like no other but they, also, want to create a 'family' and, most importantly, be a brand that promises to be affordable, promises to be unique and promises to be of high-quality.
They spent a long time finding the right suppliers and developing the final prototype and this has also meant that they have taken even longer to publicise their idea on social media. Since officially launching in September, and with no money spent on advertising, they have been published in newspapers and attracted an incredible 5000 followers on Facebook and Instagram. They hope that more and more people fall in love with their concept so that everyone can be part of their idea, their story and be proud to own a beautiful and colourful looking watch at a completely affordable price.
Read the full newspaper article here
Over the next month, they will be attempting to carry on building their community and preparing their Kickstarter campaign by posting videos and pictures of their watches, telling you their story and designing their crowdfunding page. Once their campaign is launched in November 2016, their watches will be available to pre-order on Kickstarter, at an incredible discount, for £90.00. So, support them on their Facebook page at www.facebook.com/kviollet and don't miss out on your chance to be one of the first to own a watch promising you to make your life twice as colourful!
My thoughts on the K.Viollet watches – By Liam at The Watch Blog
I have to say, after having a look through and reading about the watches, I'm pretty excited to see how this one plays out on Kickstarter.
The concept is very different, I think the watches looks great and they're using some quality components like the Swiss movement and the sapphire glass that I love to see. It's brilliant to see an affordable luxury brand trying something completely different.
Looking at their popularity so far on Facebook & Instagram, and the fact that they're priced at that sweet spot that makes them accessible for everyone, I'd be surprised if this brand doesn't get fully funded.
I'll update you with a link once they go live, to keep up to date, and be notified straight away make sure you follow their Facebook page.