Introduction
Hey everyone, today I've got the pleasure of reviewing this stunning timepiece. Extri sent along one of their watches for me to take a look at and see what I think of it. It's safe to say I am pretty impressed, these are high quality watches with fantastic designs and all at an affordable price mark. You may not yet be aware of the Extri brand so I'll introduce you to them before moving on to the full watch review.
About Extri Watches
Expert. Extreme. Exceed——Extri
It wasn't until recently that I had actually heard about the Extri watch brand, but it's only recently that they are making themselves known in the UK market. They have a large selection of watch designs that all having the following features:
All our watches have a 2 year warranty
Sapphire Crystal
Stainless Steel
10atm (100 meter water resistant)
Easy removable straps for every occasion
It's great that everything I would expect to see in a line of quality designer sports watches has been included.
They appear to be going on quite the push to get noticed in the UK and I'm sure they are going to succeed in becoming a very well known brand due to their popular watch designs, specifications and affordable prices.
When it comes down to intoducing themselves, this is what Extri have to say:
'Extri incorporate the spirits of "Challenging the extreme" and "Exceed beyond oneself" into the process of watch making. We devote enormous amount of hard work and time in every creation of our sportive fashion products. Every detail and every tiny part are strictly monitored and applied. Extri pursue perfection in the art of watch workmanship which shows our absolute devotion in creating unique products displaying the spirit of extreme sports.'
If you want to learn more about the Extri brand you can check out their website. For now though it's onto the watch review.
Extri X3011SD Watch Review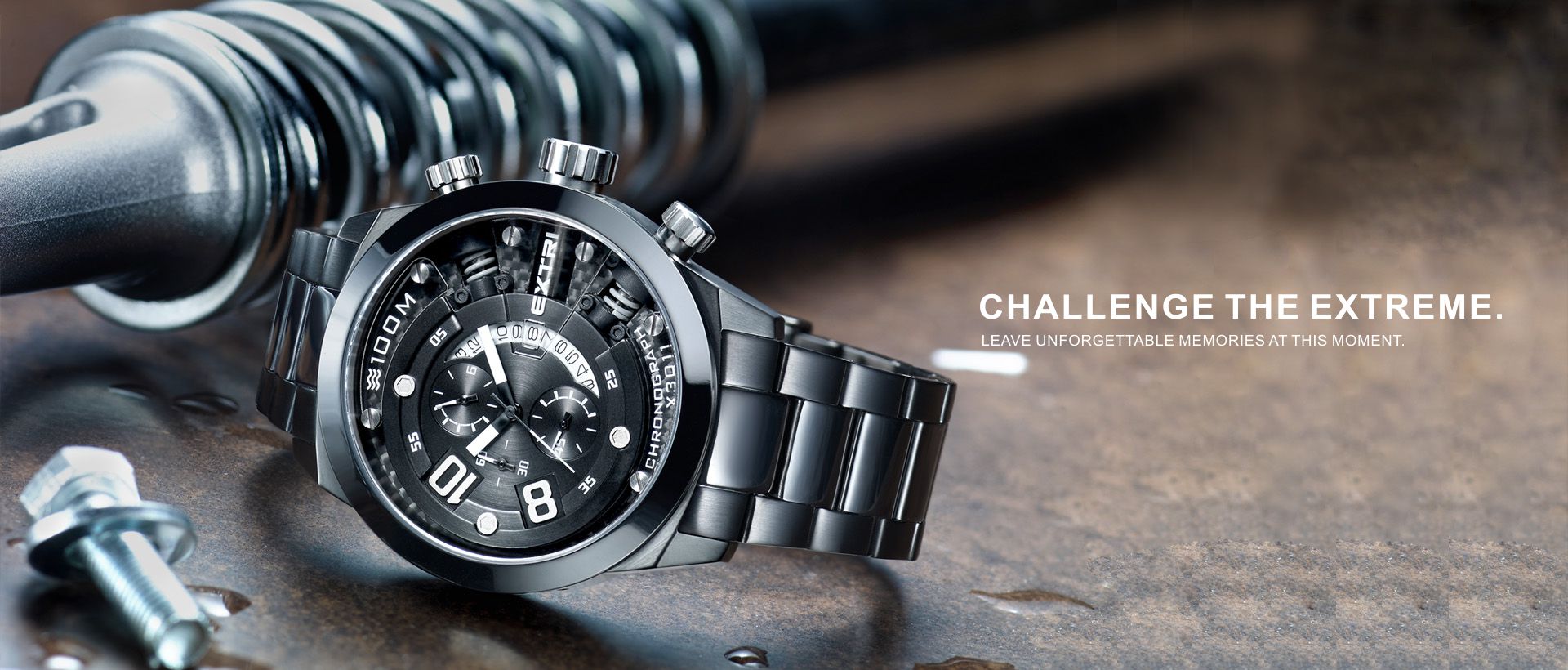 My Initial Thoughts On The X3011SD
When I opened up the Extri watch box I was like an excitable child. This was definitely the type of watch I love, it has such an interesting design to it, from the semi exposed calender feature, to the off-set dial which you rarely see.  It has that oversized style I tend to go for that's popular at the moment, the casing measures 48mm and has a nice chunky feel to it. The X3011SD also has a very good weight to it, fairly heavy giving that durable feel to it, so you know this watch can manage an extreme day.
Type Of Glass
I mentioned earlier on the the glass featured on all of the Extri watches is Sapphire crystal. This is one of the most durable materials available for use on watches. With a Mohs hardness rating of 9, it's highly resistant to any scratches, as demonstrated in the Extri video below. It's great to see the use of Sapphire glass in this price range as often you would find the lesser quality mineral glass instead.
Sizing
The casing diameter of the X3011SD is 48mm which is fairly substantial and considered an extra large watch. Oversized watches are definitely the in thing at the moment so I can see this being popular. To put it into perspective, your typical large men's watch averages at around 42mm these days, making this watch just under 15% larger.
Calendar
This particular calendar feature is something I hadn't seen done before myself, and I think it looks great. It's a semi exposed style with a clear date indicator in the middle. It's another added bit of style to an already very impressive looking watch.
Watch Strap And Clasp
All the Extri watches feature easily interchangeable straps. The X3011SD comes with the stainless steel bracelet attached but also has a silicone strap available. Personally I don't often go for silicone straps however I gave this one a try, it's so soft and comfortable, it's a impressive quality silicone strap judging against other watches I've tested.
If you go with the stainless steel strap, it features a fold over clasp with a side push release. Push releases are something I tend to prefer as they make it very easy to remove your watch compared with safety clasps and the standard fold over option.
When it comes to the silicone strap, it's a large style buckle to go with the rest of the watch's oversized theme.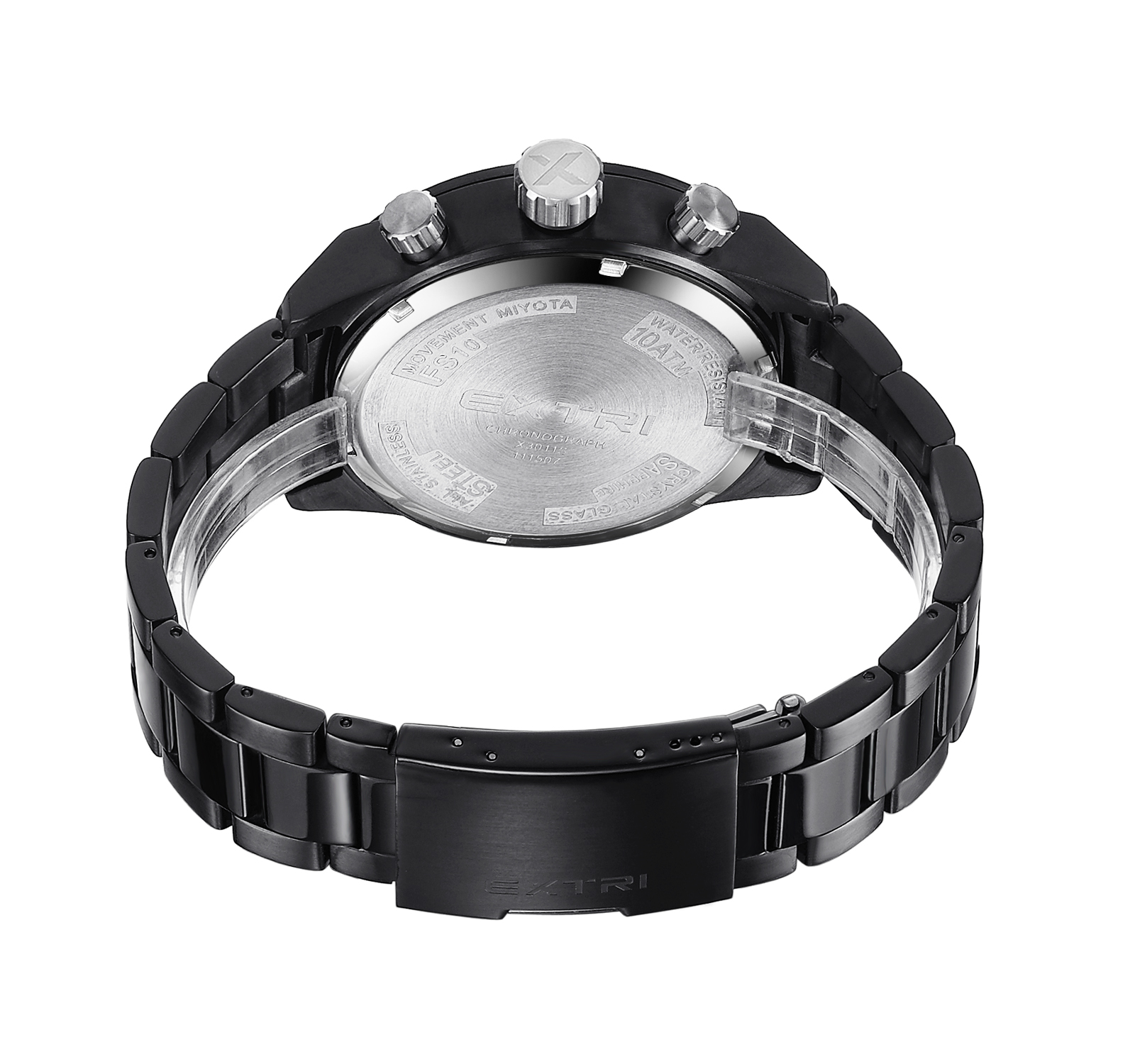 Watch Specifications
| | |
| --- | --- |
|  Case |  Diameter:48mm,brushed stainless steel or sand-blasting,Vacuum ion plating |
|  Crown |  Brushed stainless steel or sand-blasting,Vacuum ion plating |
|  Bezel |  Brushed stainless steel or sand-blasting ,Vacuum ion plating |
|  Dial |  Multi layer,Oil press surface,Handmade applied index,numbers and lines |
|  Back case |  Stainless steel screw case back |
|  Movement |  Miyota FS10 chronograph movement |
|  Function |  3H:date display,6H:60S,9H:60mins,12H:24 hours |
|  Band |  Stainless steel bracelet |
|  Buckle |  Brushed stainless steel ,Vacuum ion plating |
|  Spring bar |  Detachable automatic spring bar |
|  Crystal |  Sapphire crystal glass,Anti-reflective coating |
|  Water resistant |  10ATM (About 100 metres water resistant) |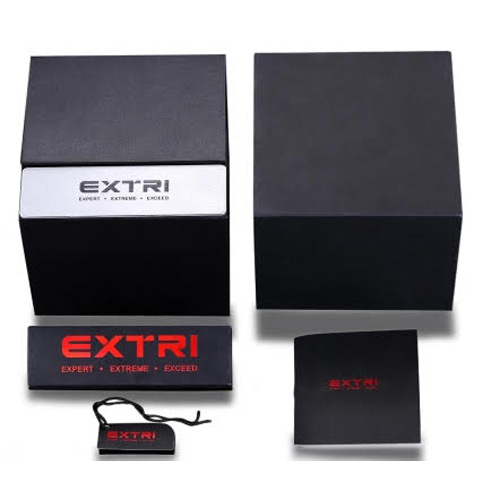 Where To Buy Extri Watches
Below I've listed the Authorised stockists that Extri watches recommend in the UK:
Keep Up To Date With Extri Watches On Social Media
I'm sure many of you will be wanting to keep updated on this brand, make sure you follow their social accounts for all the up to date news on Extri watches.
Conclusion
As many of my regular readers will be aware of I now have over 60 or so watches, I don't wear all of them that often as I tend to collect. This however is a watch I'm looking forward to wearing out quite often. I just love the whole design of the watch and I'm sure I'm going to get friends asking for more details on it. Don't forget to check out their whole range as there really is something for everyone. I'll be uploading some of my own images of this watch to our social accounts soon so make sure you're following us online (links at top of the page).
Thanks for taking the time to have a read through, hope you enjoyed taking a look at this Extri watch today.