Hello everyone, today I'm taking a look at the 6 best cheap Citizen watches available for men. While I may have used the word cheap in the title please don't miss interpret that to mean any lacking of quality. All these Citizen watches offer fantastic value for money and are all good quality watches.
To learn more about this brand, the quality and its history head over to my in depth Citizen watches review.
You'll notice the list is completely dominated by Citizen's Eco-Drive series, these watches are powered by sunlight and never require a battery change, you can see why they would end up being some of their most popular watches.
Anyway, I'll get on with the list below, don't forget to comment below letting me know what you think.
1. Citizen Men's Eco-Drive Black Leather Watch #BM8240-03E
First up from Citizen we have one of their watches from the popular Eco-Drive range. The dial has a rather simple design but I find it interesting how they've only highlighted the 12, 8 and 4 hour markers. All in all a nice looking smart watch.
2. Citizen Men's BV1060-07E Eco Drive Strap Watch
Another Eco-Drive watch up next this time with a larger sized casing at 43mm, this gives the watch an easy to read aspect to it. The dial featured large clear numerals which can be helpful to many. I like how they've gone for a smaller sub dial to display the seconds on this watch, interested addition.
3. Citizen Men's Eco-Drive Flexible Band Two-Tone Watch #BM8454-93A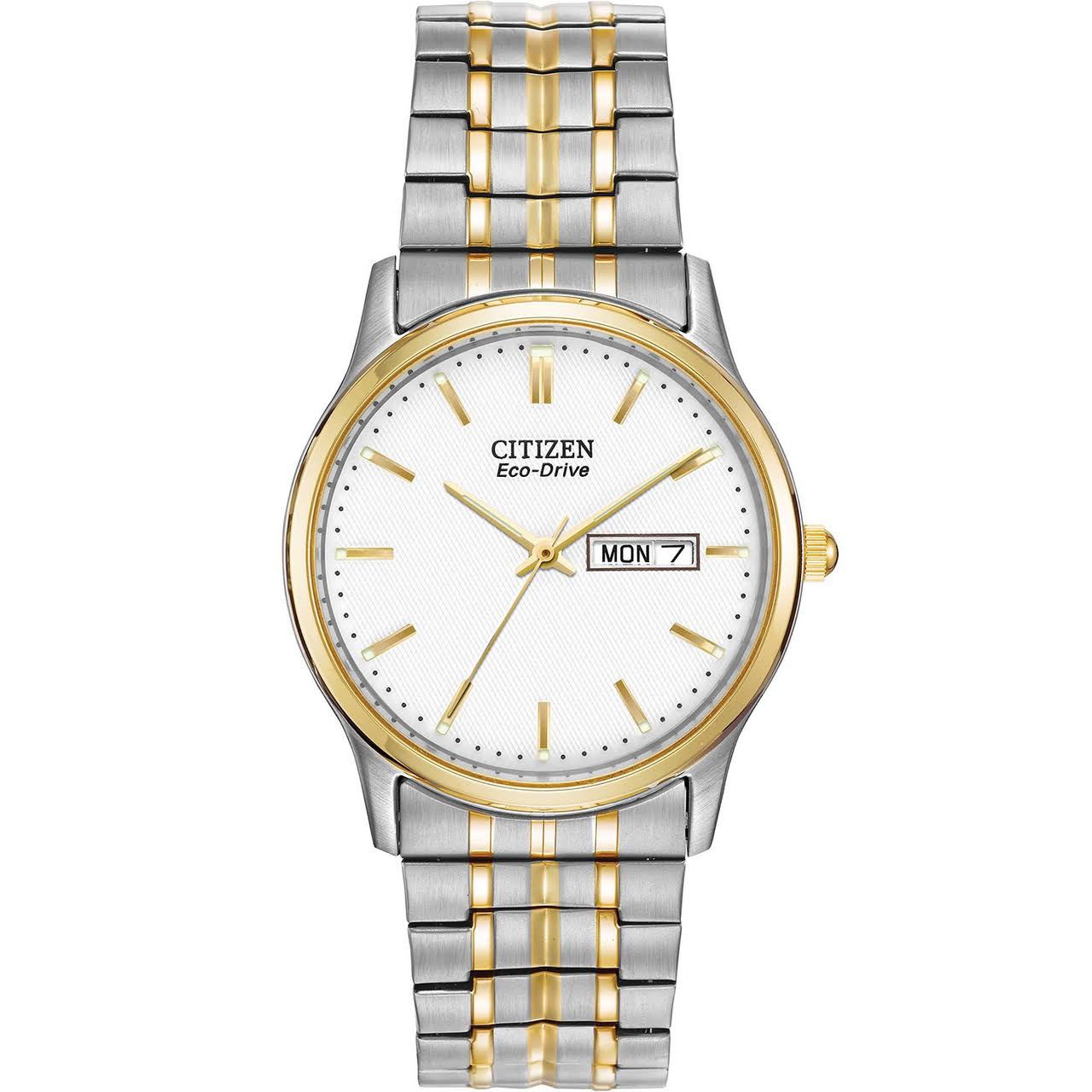 You probably guessed by now that the Eco-drive series will dominate this post for the best cheap Citizen watches. this watch has a nice luxury look to it with it's two tone gold and stainless steel design. It's the only watch to make this list that utilizes a expansion style strap.
4. Citizen Men's Eco-Drive Stainless Steel Watch #BM8220-51L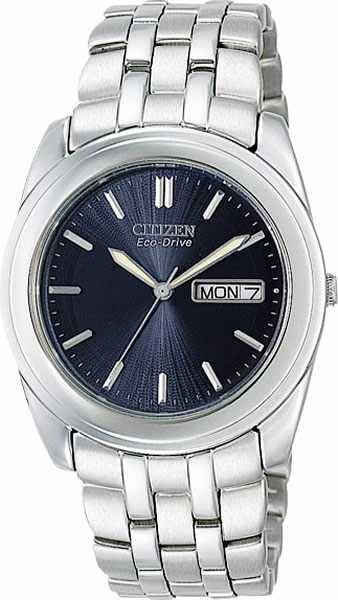 This is one of the smaller watches to be featured today, it has a casing diameter of 35mm which is classed as a small watch. It's smaller than I would personally go for, but that's just down to my personal preference, some people prefer smaller watches. Overall it's a rather tasteful no fuss watch that never requires a battery change, not bad at all.
5. BM6752-02A Gents Citizen Gold Plated Brown Leather Strap Watch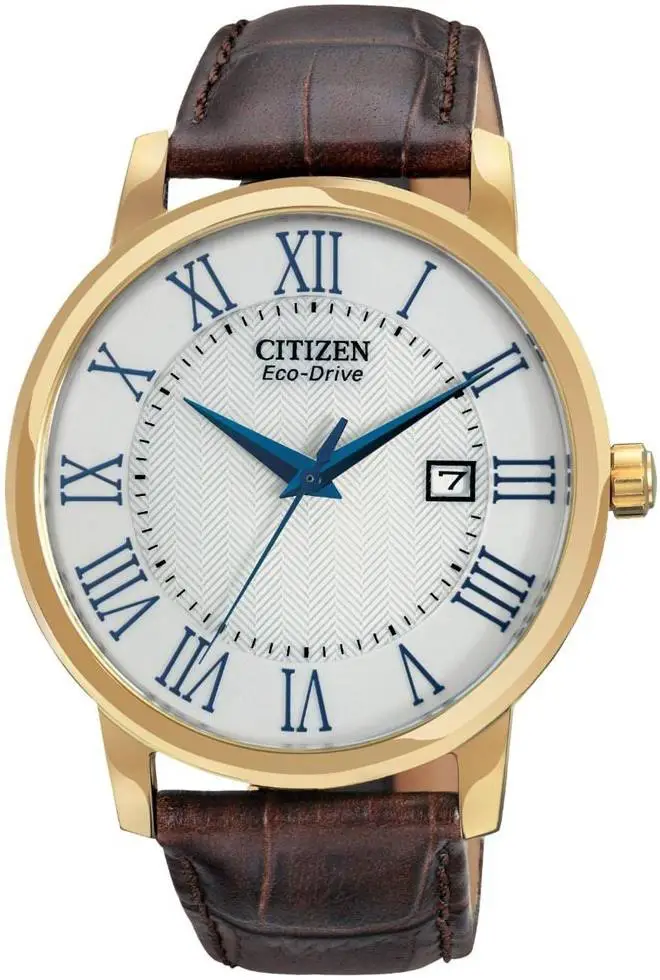 This watch has to be my favourite out of all the watches featured on this list. I'm a big fan of clever used of blue in watches so the detailing here is something I'm especially fond of. I also think you should take note of the textured pattern they've used on the centre of the dial, this gives an interesting dimension to something that otherwise could have come across plain. If you ask me, it's the best looking watch, but that's just my preferred style.
6. Citizen Men's Eco-Drive' Watch with Leather Strap BM8242-16A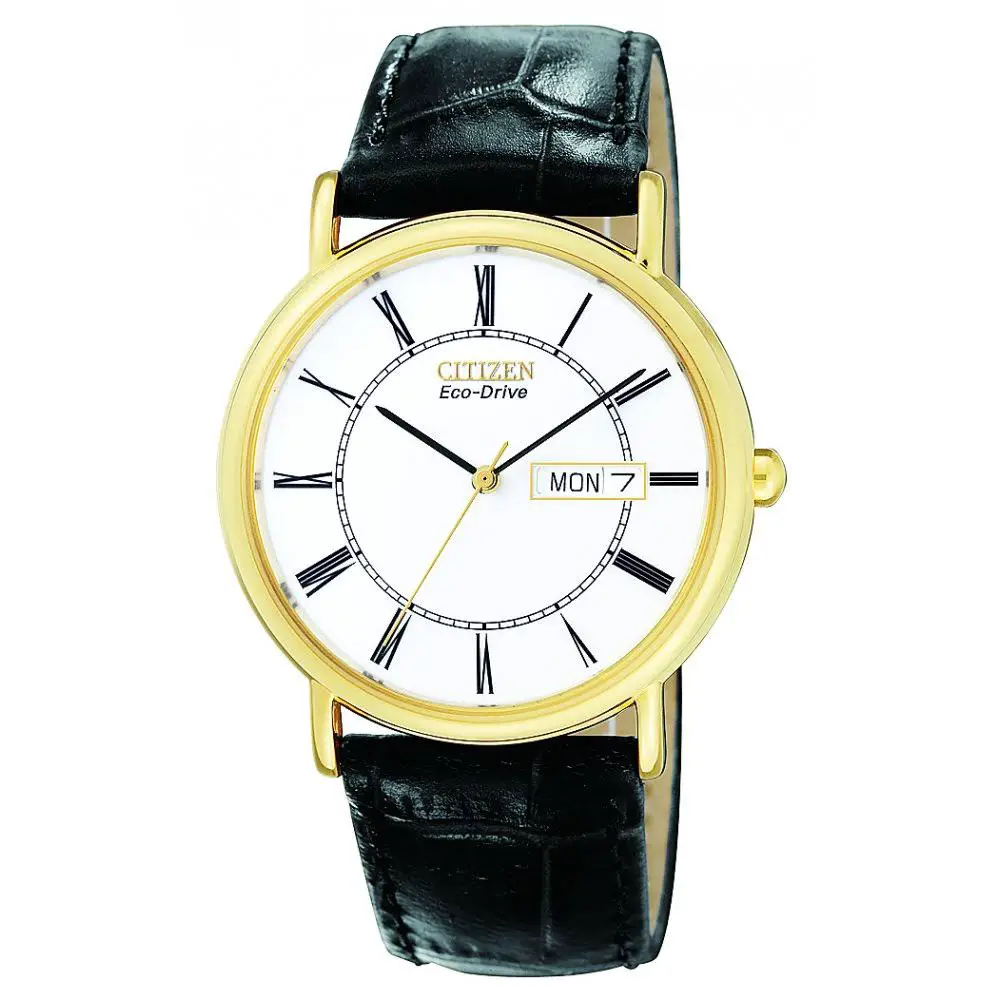 Last but of course not least to be featured today is this stunning classic Eco-Drive watch. If you're after something with the classic wristwatch design, blended with some modern technology you may well have found the perfect watch. I like the gold & black design of the watch, gives it that old feel that people are fond of.
It's also keeping to the sizing of the classic watches with a casing diameter of 36mm, and a thickness of 7mm, all very traditional.
Conclusion
Thanks for having a read through, I hope you found today's post helpful and enjoyable. As I mentioned earlier, my favourite has to be watch number 5, It's actually one I may consider adding to my collection soon. Remember all these watches are very affordable and offer great value for money.
Let me know what your favourite was in the comments below, were these the best cheap Citizen watches for men? Or do you think we missed some.