Armani Exchange AX2104 Review Men's Watch
My rating: 9/10. Excellent watch. Popular all black design.
Today I'm doing an Armani Exchange AX2104 review. The Armani Exchange sub-brand was created by Giorgio Armani in 1991. Their range of watches bring a premium look and feel to the masses with an affordable price. From stylish bold timepieces to delicate and elegant choices, they have something available for everyone.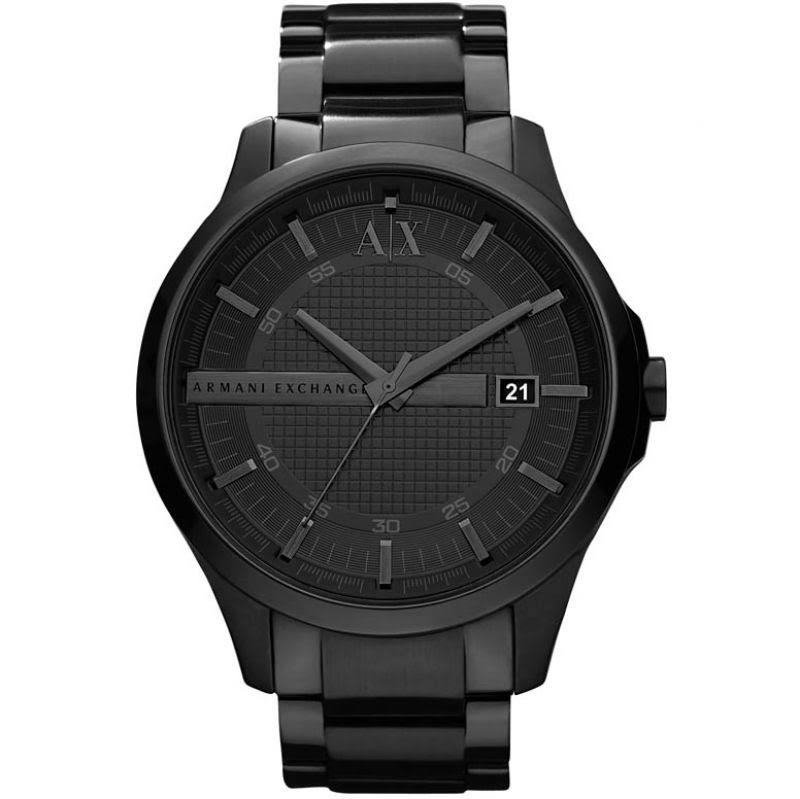 Latest reviews, ratings and prices: Armani Exchange AX2104 watch
At the bottom of the article, I'll show you some of my recommended places to buy this watch from
The model I'm showcasing today is the Armani Exchange AX2104, it's one of the most popular Armani Exchange watches available and with it's sleek all black design and affordable price, it's easy to see why.
All black watches are very on trend at the moment, they're very stylish and look great on the wrist. The only problem that I feel I have to mention is the fact that they really can't be read in the dark at all. I know that's a fairly obvious point if you look at the watch, but it does need to be said.
This model features a Japanese Quartz movement for extra accuracy and has a small date display with white numerals to make it stand out.
The casing of the watch has a diameter of 47mm which would make this an oversized style watch, another very on trend style at the moment. The thickness of the case is 12mm, so fairly standard.
Watch Specifications
Band Stainless steel black ion plated, standard length, fold over clasp.
Case Stainless steel casing black ion plated, sizing diameter: 47 mm and thickness: 12 mm.
Dial Analogue display. Features a date display. The window lens is made of mineral crystal.
Movement Japanese Quartz movement.
Water Resistant A water resistance of up to 50m / 50 bar.
Watch Advantages
Japanese quartz movement
Popular All black design
Mineral glass offers a good level of protection from scratches and knocks
In demand designer brand
Oversized style is very popular at the moment
50m water resistance, suitable for swimming, white water rafting, non-snorkeling water related work, and fishing
Watch Disadvantages 
The moment it gets dark you won't be able to read it. But let's be honest this watch gets purchased as a fashion statement more than a time teller
My Final Thoughts On This Armani Exchange AX2104 Review:
The Armani Exchange AX2104, with its all-black style and oversized design, was bound to be popular, throw the designer brand name and affordable price tag and you've got yourself a best-selling watch. With all that in mind, it's very clear why this watch has been so popular.
If you're into your designer watches and want something that looks incredibly sleek on your wrist then I highly suggest checking this watch out.
After taking everything into account, such as design, build quality and price, this watch received a well deserved 9/10 from The Watch Blog.
Where to buy the Armani Exchange AX2104
I like to stick to listing retailers that I've actually had experience buying from in the past. Below I've listed 3 of the top places to buy this watch from, check all 3 for the best price.
Hope you enjoyed this Armani Exchange AX2104 review. Find more watch reviews below.