So I'm going to end up buying one of these! Victorinox make such damn nice luxury Swiss watches. Today I'm looking at the 7 Most Popular Swiss Army Victorinox Watches For Men. These are such amazing quality Swiss timepieces all for under £500. I'm personally thinking of buying number 7 in the next few months as I haven't yet got a Victorinox watch but it's clear to me I need one.
I've included reviews from actually buyers with each of the watches. Hope you find this helpful. Why not checking out my 21 under £500 after this for more awesome watches.
1. Swiss Army Classic Officer's Stainless Steel GMT Mens Strap Watch Silver Dial Calendar 241550 £129.00 on Amazon
'I have a relatively modest watch collection: this Victorinox Officer's Day/Date mechanical; Victorinox Alliance Quartz; Casio MDV quartz; SeikoSNZH53 mechanical; and Seiko SARB065 mechanical. The SARB065 is the prettiest, and the Casio makes a great "beater" watch for swimming and mountain biking, but this Officer's Day/Date is by far the most versatile. I love the sporty-but-understated style of this watch. The watch is monochromatic silver, yet the contrast of the brushed and polished aspects of the case and face are intricate and interesting. Its style and size work with everything from shorts to suits and everything in between. If I could have only one watch, this would be it.'
2. Swiss Army 241552 Stainless Steel Case Black Calfskin Men's Watch £301.30 on Amazon
'This is One of the nicest watch I have ever owned and I LOVE it. It keeps amazing time and looks absolutely amazing. I'm a huge fan of Swiss army and they didn't disappoint. I would buy this watch again in a heartbeat.'
3. Victorinox Swiss Army Alpnach Automatic Mens Sports Watch 241197 £289.00 on Amazon
'I have wanted a nice watch for a while so decided for my 40th i will get one.after looking at various watches tissot,seiko and various others the victorinox caught my eye and decided to go with it…rrp of 735 but got it cheaper is an absolute bargain it might be a slightly older model think it was in the 2011 catalogue but quality is priceless and this watch ouzes just that, its not to big but nice and weighty and robust looking along with real beauty…the skeleton glass back is a wonderful touch and being automatic no more messing with batteries…i thank my misses for paying a big chunk of the cost ..money well spent'
4. Victorinox Swiss Army Men'S 241148 Classic Chronograph Red Dial Watch £189.00 on Amazon
'Beautifully made and elegant. The whole watch from face, timekeeping, bracelet and clasp are robust and exactly what you would expect from this brand. Top quality.'
5. Victorinox Swiss Army Men's CHRONO CLASSIC Watch 241261 £319.00 on Amazon
'Lovely watch, just as anticipated. Just took it to the jewellers to have a link removed from the strap, and now I'm wearing it, I'm very happy with the size and weight (as well as the look) of it.'
6. Victorinox Men's Watch XL Analogue Rubber 241435 Classic £215.77 on Amazon
'Precision time piece, hands and face are easily read in a variety of lighting conditions. The rubber watch band is exemplary in fit and finish. I wouldn't hesitate to own another Victorinox time piece.'
7. Swiss Army Victorinox Infantry  241526 44mm Stainless Steel Case Black Calfskin Anti-Reflective Sapphire Men's Watch £499.00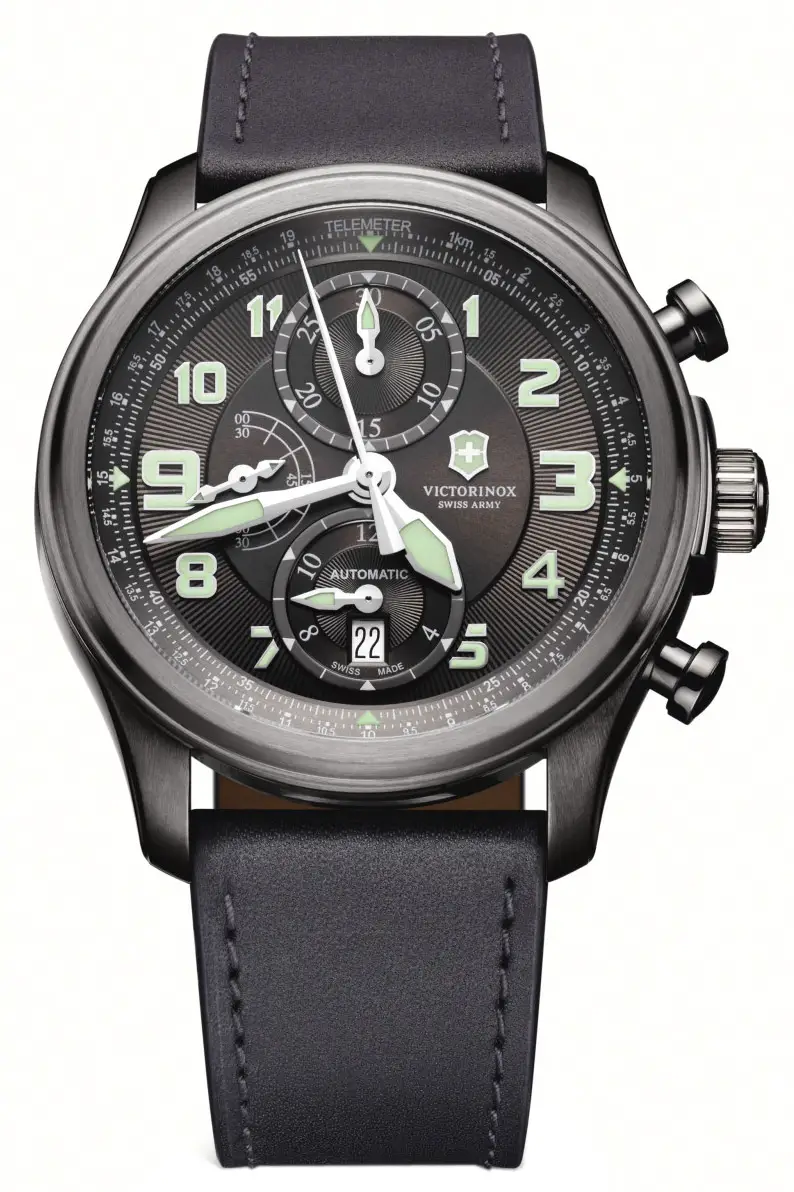 'This timepiece is gorgeous. Good heft, quality build, and the name you can trust. This is the most recent Victorinox watch I have purchased and my second automatic. However, this is the first automatic with the see through case back and I can tell you its mesmerizing to view the movement. The anti-reflective coating does well but there is still reflection from the metal on the hands as its is very polished. The lume coating on the hands and markers is also very impressive. Good Job Victorinox!'
Thanks for reading that was the Top 7 Most Popular Swiss Army Victorinox Watches For Men. Hope you found this helpful. Remember to share, tweet, +1, and Pin!